Regular price
Sale price
$28.00 AUD
Unit price
per
Sale
Sold out
Boost your immunity with this rich blend of herbs and spices.
Filled with ingredients that enhance antioxidant levels in the body, this immune powder is crafted to not only support your immune system, but also alleviate symptoms of the common cold or flu.
Hand-blended superfood powder by naturopath Nataša Zaric
Made in Canberra
Packed in biodegradable packaging
Available in 100g
Share
Ingredients

All Certified Organic Ingredients: Horseradish (30%), Garlic (30%), Ginger (20%), Turmeric (15%) and Cayenne Pepper (5%).
How To Prepare

Mix 1⁄2 teaspoon of powder into water, veg-based juice, smoothie or soup.
Alternatively, make it into a Fire Tonic by adding 1 teaspoon of apple cider vinegar to 1⁄2 teaspoon of the powder.
Enjoy 1-3 times a day.
Shipping

We are shipping orders in 1 to 2 working days.  Express orders placed by 1pm AEST are sent same day. Once your order has shipped, it will arrive in 2 to 7 days depending on your destination.

For more details, read our Shipping Policy
View full details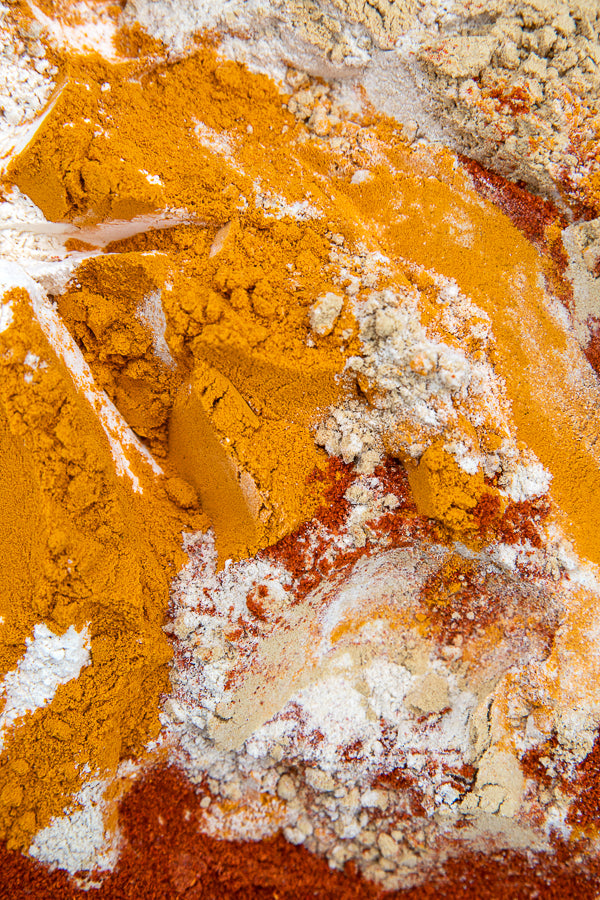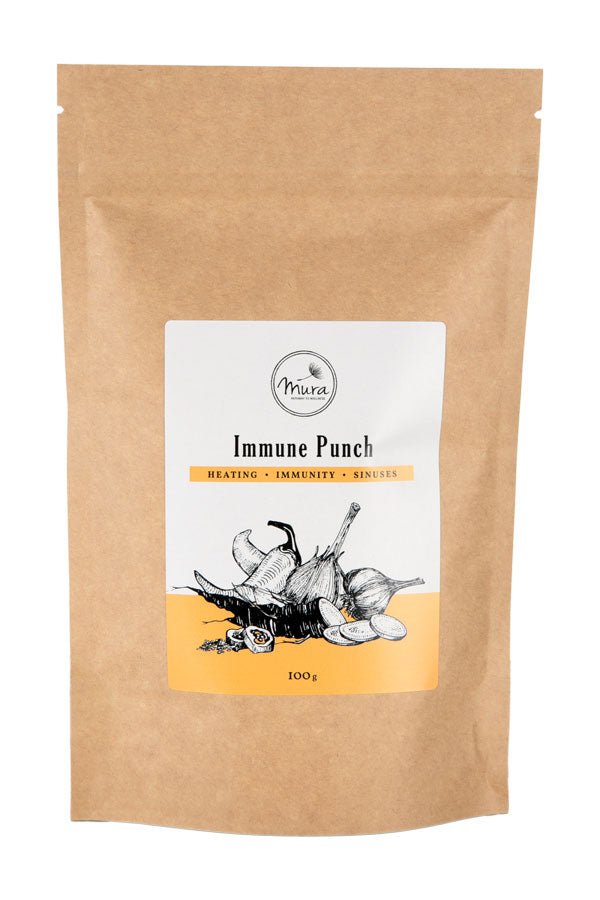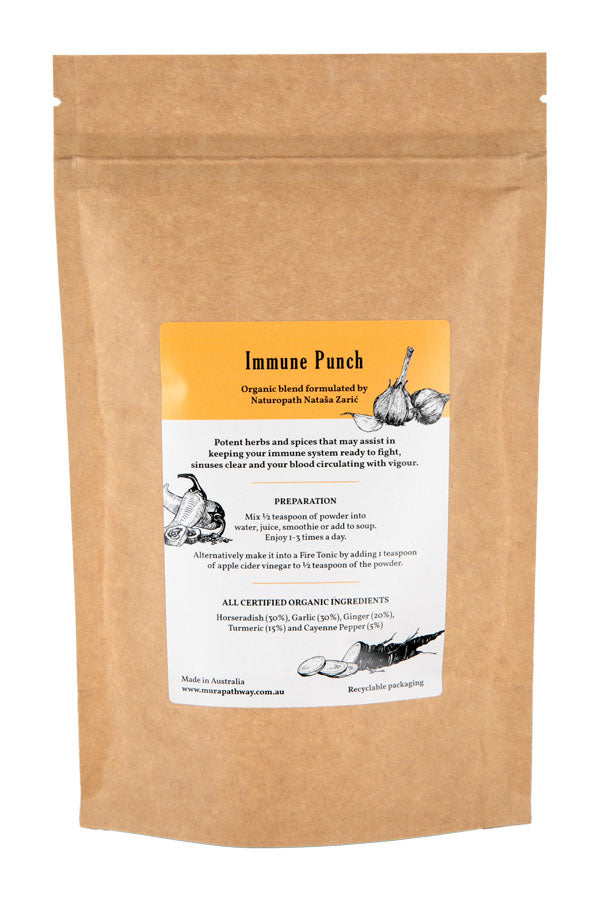 Immunity Powder: Frequently Asked Questions
What does immunity powder do?

This immune powder has a number of immunity booster foods to help bolster your body's natural protective mechanisms with the following ingredients.

Horseradish is a root vegetable with potent remedial properties. Not only does it contain allyl isothiocyanate, which is highly antibacterial, but it also contains sulphur and other compounds, which help to promote blood circulation and clear out sinus passages.

Garlic has high levels of sulphur-containing compounds that lower inflammation in the body, and possess antiviral properties, helping to protect your body against illnesses such as the common flu or cold.

Ginger contains a number of phenolic compounds such as gingerols, shogaols and paradols, which are powerful anti-inflammatory and antioxidants that help to prevent colds and congestion.

Turmeric is a powerful anti-inflammatory and antioxidant which has been found to modulate the activation of cells involved in the body's immune response, along with enhancing antibody responses.

Cayenne Pepper is rich in nutrients and antioxidants such as Vitamin C, which is important to immune function as it enhances the production and effectiveness of white blood cells. The spice can also be beneficial in clearing any congestion.
What are signs of a weak immune system?

There are many reasons why you might be experiencing a weak immune system, from an unhealthy lifestyle, to long-term stress or having suffered from a bad infection in the past.

Symptoms of this include always having a cold (especially when others around you don't), prolonged sickness, feeling run down, and experiencing poor digestion.
What superfoods improve your immune system?

One of the best things about superfoods, are that they're "super" for a reason.

In addition to the ingredients contained in this immunity powder, greens provide a number of benefits. These can be taken in the form of a supergreen powder.

Other great foods to consume include berries and beetroot, which can be taken in the form of a super reds powder.

Additionally, you can improve your immune system by consuming healthy amounts of fruits, vegetables, nuts, seeds, pulses and whole grains.
Organic

We only use the finest
natural ingredients.

Recyclable

All packaging is recyclable and eco conscious.

Cruelty Free

Our entire collection is vegan and cruelty free.

Hand Blended

All of our products are made in small batches for quality control.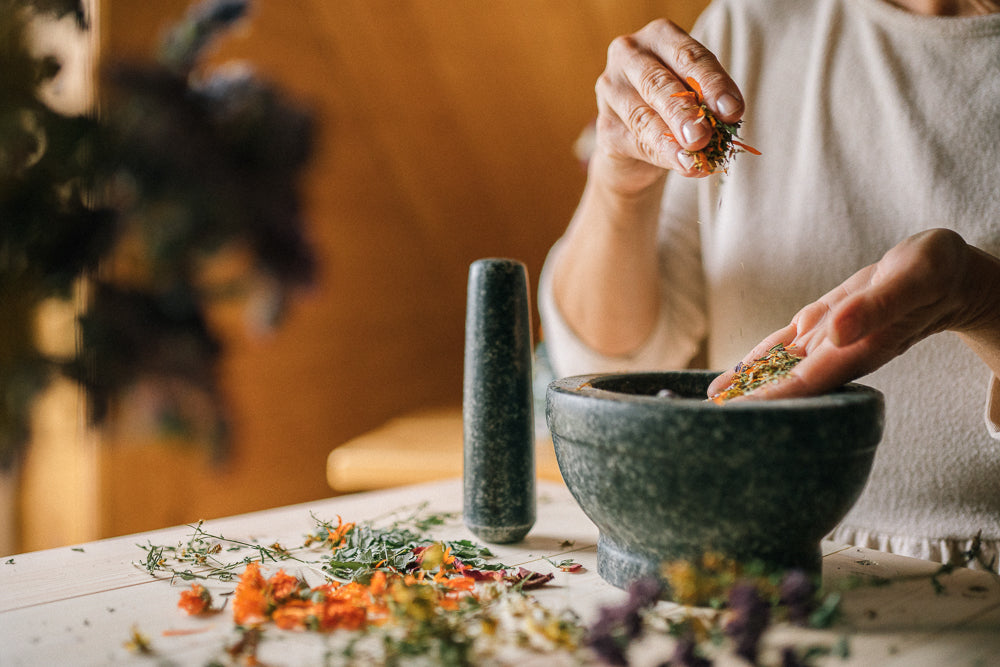 Organic ingredients
We always choose the finest natural ingredients, then expertly blend them to benefit your overall wellness.
You will never find fillers, flavour enchanchers, artificial colours and sweeteners in our products.