Regular price
Sale price
$49.00 AUD
Unit price
per
Sale
Sold out
Promote good immunity and healthy aging with this rich blend of super berries and beetroot.
Bursting with antioxidants to protect your body from free radicals, this potent powder is designed to boost your well-being and provide a zing for your energy.
A natural source of iron, copper, potassium, folate, and vitamin C.
Hand-blended superfood powder by naturopath Nataša Zaric
Made in Canberra
Packed in biodegradable packaging
Available in 180g
Share
Ingredients

All Certified Organic Ingredients: Beetroot (33%), Acai Berry (8.3%), Blueberry Juice (8.3%), Elderberry (8.3%), Goji Berry (8.3%), Hibiscus (8.3%), Pomegranate (8.3%), Rosehip (8.3%), Maqui Berry (8%) and Dulse (0.9%).
How To Prepare

Mix 1 heaped teaspoon of powder in 200-300 ml water, juice or smoothie.
Enjoy once or twice a day.
Shipping

We are shipping orders in 1 to 2 working days.  Express orders placed by 1pm AEST are sent same day. Once your order has shipped, it will arrive in 2 to 7 days depending on your destination.

For more details, read our Shipping Policy
View full details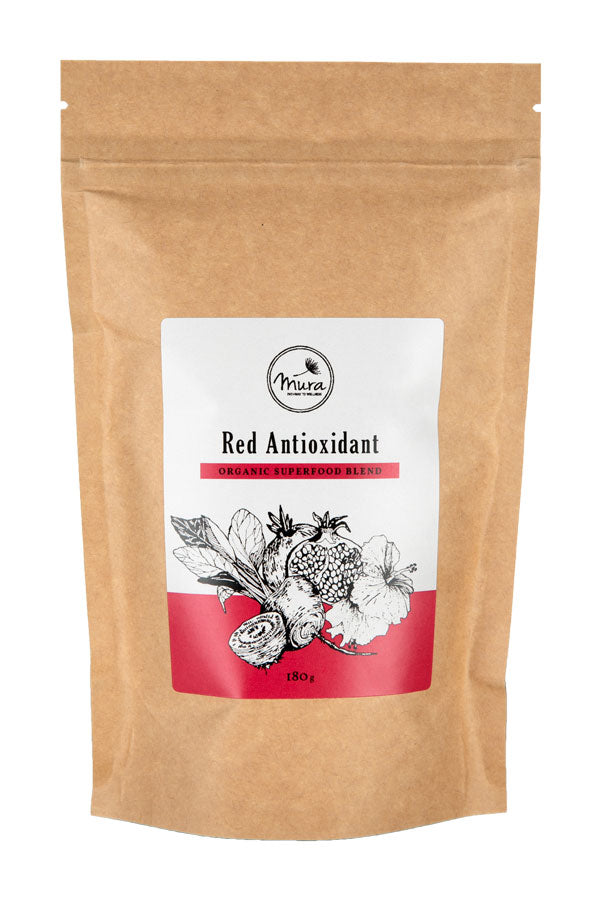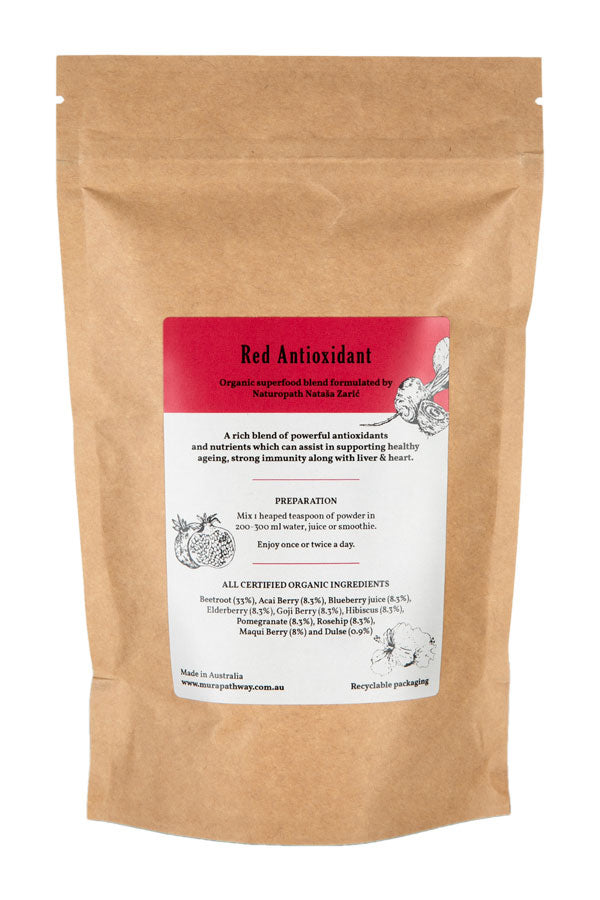 Super Reds Powder - Frequently Asked Questions
What are the benefits of super reds powder?

Berries contain high amounts of antioxidants, including anthocyanins, that help to protect healthy cells from daily sources of oxidative stress.

Combined with the anti-oxidant and anti-inflammatory properties of beetroot, this super blend will keep your health out of the red!

Beetroot plays a protective role for the liver, heart and blood vessels. It's packed with folate and other minerals such as manganese, copper and potassium.

Beets are also high in nitrates that encourage healthy blood pressure and can enhance your energy. They're anti-inflammatory, rich in fibre and excellent for your digestion.

Acai Berries have more antioxidants than most other berries, which protect your cells from damage. They can also assist with improved brain & memory function and boosting the immune system.

Blueberry Juice packs a big punch with its high level of antioxidants, vitamin C and vitamin K. It's protective of blood vessels and encourages a healthy blood sugar balance. Blueberries are incredibly high in flavonoids, including anthocyanins, that help to support heart health.

Elderberries are a sweet, dark purple berry, native to Europe. Rich in antioxidants and minerals, these berries have immune-enhancing, antiviral and histamine-calming properties. They're helpful for reducing symptoms of allergies, lessening stress and protecting your heart.

Goji Berries have been used in Traditional Chinese Medicine for supporting the kidneys and revitalising people with low energy reserves. Goji Berries are high in antioxidants, including zeaxanthin, that protect against free radicals and support eye and liver health.

Hibiscus flowers are laden with antioxidants and vitamin C. Naturally sweet, they're excellent for fighting inflammation and protecting against colds and flu. Hibiscus is also helpful for healthy blood pressure, balancing cholesterol levels and protecting the liver.

Pomegranates are rich in vitamin C, folate and magnesium and their little seeds provide a sweet, slightly tart flavour. Pomegranates are rich in antioxidants and help to reduce inflammation and protect the heart and kidneys.

Rosehips are packed with vitamin A, vitamin C, beta-carotene and antioxidants. These little red buds are anti-aging and anti-inflammatory. They're supportive of healthy gut function, protective of the heart and support a strong immune system.

Maqui Berry is a small, dark purple berry that's native to South America. It's packed with antioxidants such as anthyocyanins, and can help to protect the heart and reduce inflammation. Maqui berries support good eye health and are said to be anti-aging.

Dulse is a type of red seaweed that's high in iron, iodine and potassium. It has anti-inflammatory properties and can boost immunity and protect against bacterial infections. Dulse can help with detoxification and promotes glowing skin and healthy aging. It also contains zeaxanthin that helps to protect eye health.
Are superfood powders really good for you?

Superfood powders are a great way of naturally increasing your nutrient intake.

This superfood powder contains only what nature provides - ingredients you can incorporate into your diet whether as whole foods or a powdered supplement.

It's a pure blend of beetroot and berries - no fillers, additives or sweeteners - so there's nothing in there that might be considered bad for you.
Is it OK to eat superfood everyday?

Absolutely! Superfoods are a great way to maximise your nutrition and support your health.
Super unique and delicious
Absolutely wonderful in smoothies. The compatibility in flavour is impressive and the colour is so beautiful!
Organic

We only use the finest
natural ingredients.

Recyclable

All packaging is recyclable and eco conscious.

Cruelty Free

Our entire collection is vegan and cruelty free.

Hand Blended

All of our products are made in small batches for quality control.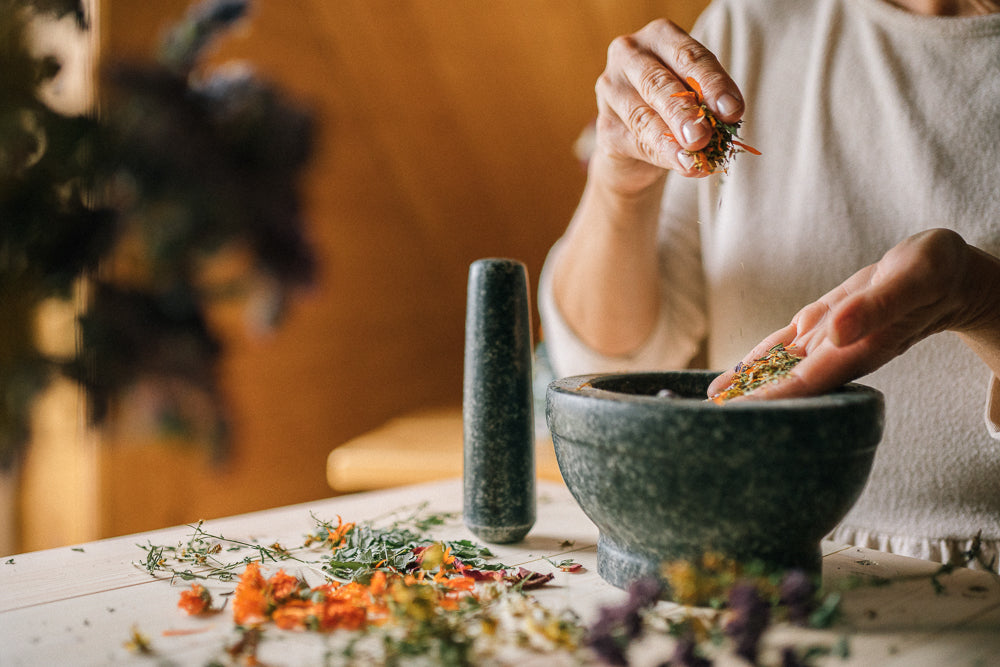 Organic ingredients
We always choose the finest natural ingredients, then expertly blend them to benefit your overall wellness.
You will never find fillers, flavour enchanchers, artificial colours and sweeteners in our products.