Regular price
Sale price
$9.00 AUD
Unit price
per
Sale
Sold out
Originating in Kyoto, houjicha tea has a rich history as well as taste. A product of roasting green tea, houjicha holds a subtle smoky aroma making it a delightful earthy counterpart to other forms of processed green tea like matcha.

Transport yourself to Japan with a brew of this beautiful roasted green tea, and experience the benefits of detoxification and stress release.
Loose leaf tea by naturopath Nataša Zaric
Made in Canberra
Packed in biodegradable packaging
Available in 80g
Share
Ingredients

Organic Japanese Houjicha (roasted) Green Tea.
How To Prepare

Use 1 teaspoon of tea for 1 cup of boiling water (leaves will expand).
Steep for 30-60 seconds.
Same tea leaves can be used twice.
Enjoy hot or chilled.
Shipping

We are shipping orders in 1 to 2 working days.  Express orders placed by 1pm AEST are sent same day. Once your order has shipped, it will arrive in 2 to 7 days depending on your destination.

For more details, read our Shipping Policy
View full details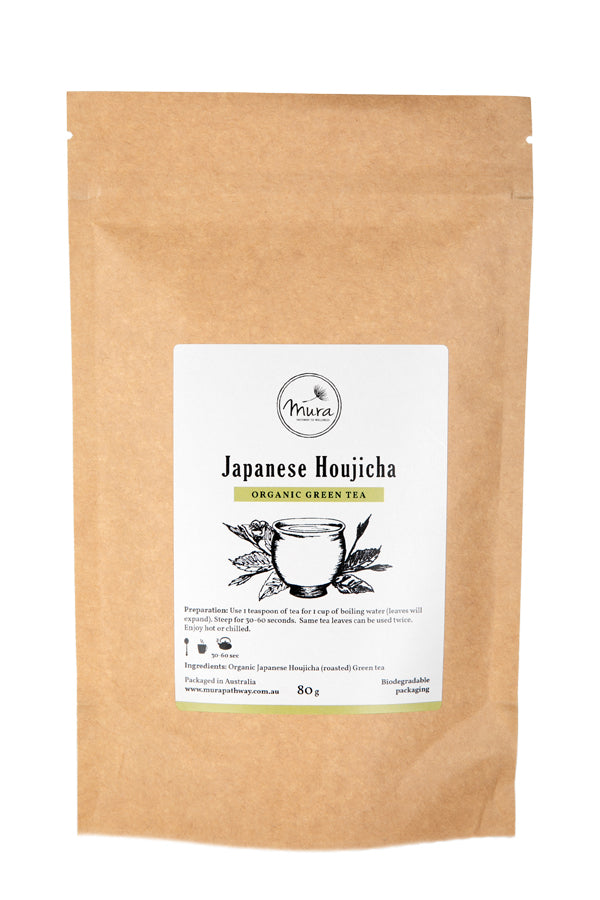 Houjicha Tea: Frequently Asked Questions
What is houjicha good for?

Drinking houjicha tea has many benefits. Firstly, since houjicha is simply roasted green tea, it contains high levels of catechins which help increase your metabolism, and reduce the risks of inflammation and heart disease.

Houjicha is also high in antioxidants, making it a great detoxifying agent and contains the amino acid L-Theanine, which is reputed to aid in lowering stress and improving your mood.
What does houjicha taste like?

During the roasting process, the bitterness is removed from the green tea leaves giving houjicha a unique taste, often described as being nutty, earthy, or toasty.

It has a similar flavour profile to another popular Japanese green tea, Genmaicha.
Is houjicha high in caffeine?

Unlike traditional green tea, houjicha has very low levels of caffeine. So much so, that you can drink houjicha tea at any time of day, including before you go to bed. However, if you are very sensitive to caffeine, it's best to avoid before sleep.
What is the difference between matcha and houjicha?

The main difference between matcha and houjicha tea is that matcha is made from young green tea leaves, whereas houjicha is roasted and comes from the mature leaves, stalks and stems.

This difference is reflected in the colour of the tea, with matcha being a bright green and houjicha being a shade of rich, earthy brown.

If you would like to try matcha, you can purchase Mura's Matcha Adaptogen Latte Powder here.
Is houjicha as healthy as matcha?

Houjicha has significantly less caffeine than matcha, making it a more suitable fit for those who are caffeine-sensitive, don't like the taste of matcha, or are looking to relax. Houjicha also has more calcium and is better for digestion, making it popular in Macrobiotic way of eating.

Though both matcha and houjicha contain catechines, the levels are significantly higher in matcha, making houjicha a less stimulating option. Matcha also has more L-Theanine, which means it is better for mood regulation.
Organic

We only use the finest
natural ingredients.

Recyclable

All packaging is recyclable and eco conscious.

Cruelty Free

Our entire collection is vegan and cruelty free.

Hand Blended

All of our products are made in small batches for quality control.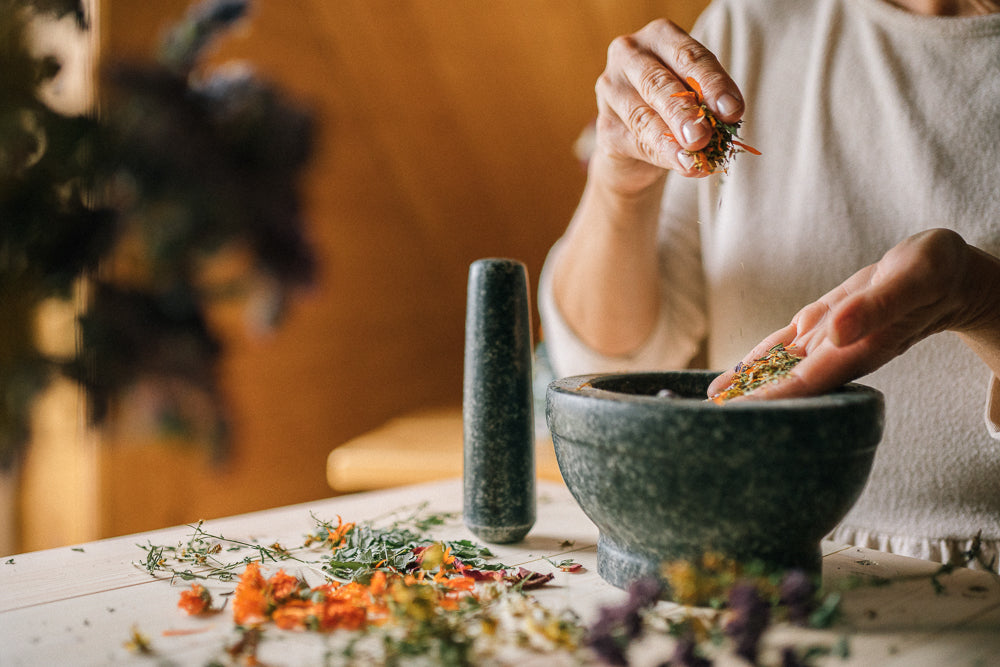 Organic ingredients
We always choose the finest natural ingredients, then expertly blend them to benefit your overall wellness.
You will never find fillers, flavour enchanchers, artificial colours and sweeteners in our products.