Regular price
Sale price
$44.00 AUD
Unit price
per
Sale
Sold out
Experience a powerful fusion of Japanese matcha and traditional herbs with our Matcha Latte Powder, an adaptogen crafted to enhance your focus and performance while keeping you calm and centred.
This powder is rich in L-theanine, a natural amino acid that promotes relaxation and reduces stress. Combined with antioxidants and nutrients, this blend offers a host of health benefits.
Enjoy a delicious and nutritious beverage that supports your mental and physical wellbeing.
Hand-blended latte powder by naturopath Nataša Zaric
Made in Canberra
Packaged in biodegradable packaging
Available in 100g
Share
Ingredients

All Certified Organic Ingredients: Japanese Matcha Green Tea, Moringa Leaf, Bacopa, Lion's Mane and Stevia Leaf.
How to Prepare

As a guide, use ½ teaspoon of powder to make 1 cup of latte.
Mix or whisk with 1 tablespoon of warm water.
Add steamed or frothed milk of your choice.
Shipping

We are shipping orders in 1 to 2 working days.  Express orders placed by 1pm AEST are sent same day. Once your order has shipped, it will arrive in 2 to 7 days depending on your destination.

For more details, read our Shipping Policy
View full details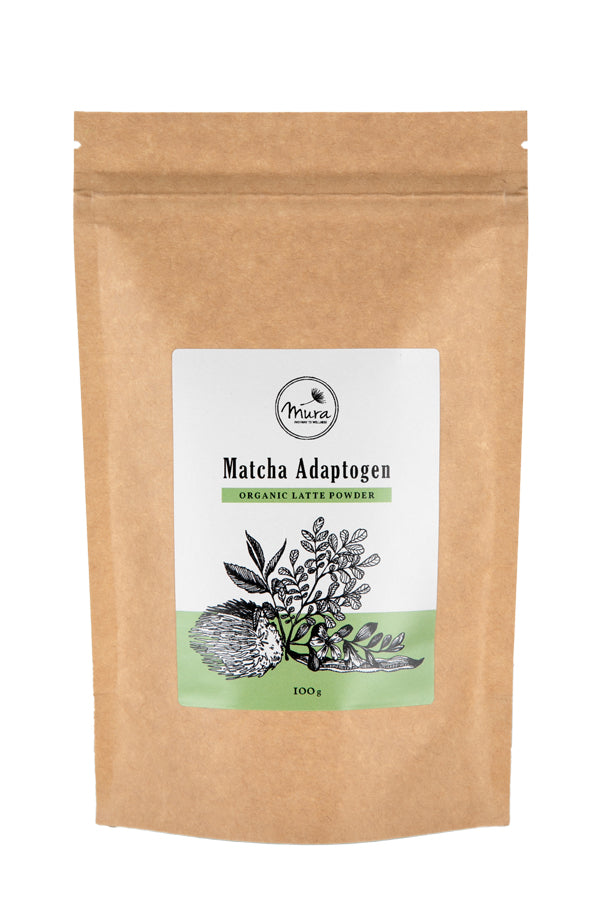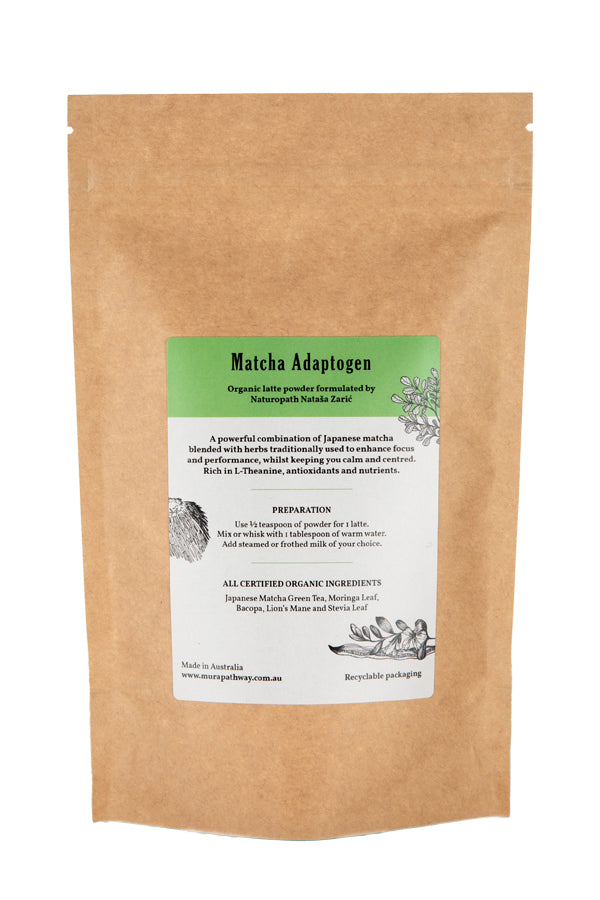 Matcha Latte Powder: Frequently Asked Questions
What are the benefits of matcha latte?

Japanese Matcha Green Tea is a powerful antioxidant and adaptogen, rich in L-theanine and other protective nutrients. It has a long history of use for graceful ageing, improving mood, reducing anxiety and helping with mental focus and clarity. Matcha is often used as a ceremonial tea with a host of health benefits such as protecting gum health, bone strength and supporting weight management.

Moringa Leaf is rich in vitamins and minerals, making it one of the most nutrient dense superfoods available. It's touted to improve libido, protect against liver disease and free radical damage, and is also a potent anti-inflammatory.

Bacopa is also known as brahmi, and is famous for its role as a nerve tonic and adaptogen. Bacopa may assist with mental fatigue, poor memory and concentration, and low energy reserves.

Lion's Mane is known to calm and nourish the nervous system and enhance digestion. Rich in beta glucan polysaccharides, it's excellent for memory and concentration. Traditionally it was used by monks to enhance their meditation practice.

Stevia Leaf is a natural sweetener that offsets the natural bitterness found in green tea. It can also assist in balancing blood sugar levels, which in turn can maintain consistent energy.
Is matcha an adaptogen?

Green Matcha tea is considered an adaptogen as it can help to balance mood, energy and blood sugar levels while acting as a potent antioxidant.
What's the difference between green tea latte and matcha latte?

Matcha and green tea come from the same plant, but are grown and processed differently. Matcha is grown in the shade to maximise chlorophyl production, while most green tea is grown in the sun. Then, instead of steaming the leaves (like green tea), they are turned into a fine powder.

Matcha has significantly higher antioxidant content than other green teas, and is said to have a richer flavour.
Who should not drink matcha?

While matcha has lower levels of caffeine than coffee, it's advised to drink with caution if you're sensitive to caffeine.
Can't rate this matcha powder highly enough
Mura products always strike a really perfect balance in their flavours, this is no exception. The ingredients work together beautifully to make the best Matcha ever!
An everyday essential
I drink a matcha adaptogen latte literally everyday, at least once. The taste, quality, and combination of superfoods is unmatched. Love this product.
Organic

We only use the finest
natural ingredients.

Recyclable

All packaging is recyclable and eco conscious.

Cruelty Free

Our entire collection is vegan and cruelty free.

Hand Blended

All of our products are made in small batches for quality control.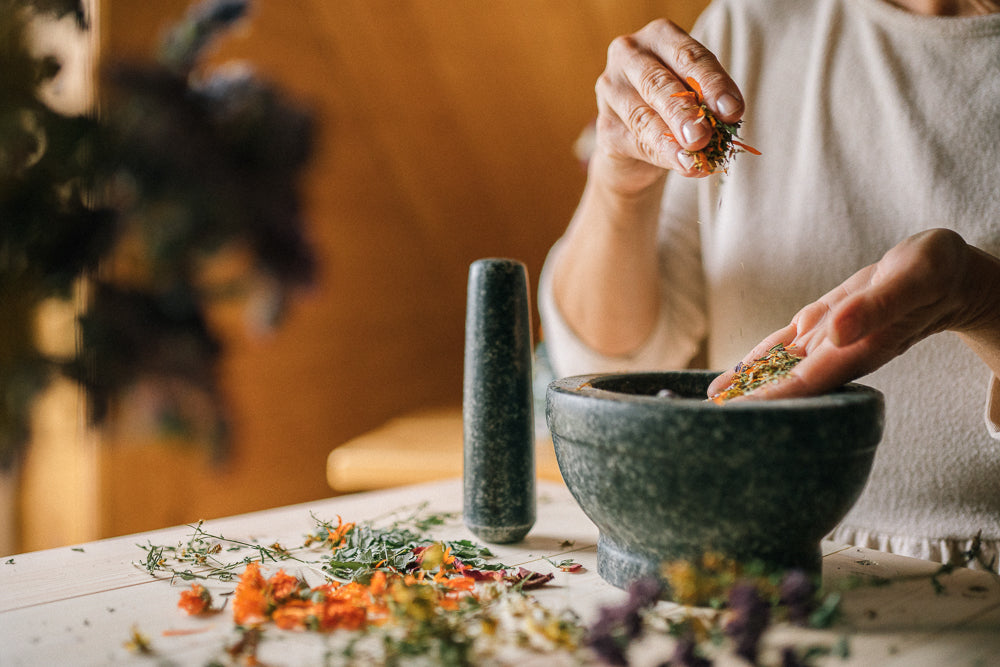 Organic ingredients
We always choose the finest natural ingredients, then expertly blend them to benefit your overall wellness.
You will never find fillers, flavour enchanchers, artificial colours and sweeteners in our products.