Regular price
Sale price
$9.00 AUD
Unit price
per
Sale
Sold out
Fill your cup with the full-bodied flavour of ripe Pu-erh (also known as Pu'er) straight from the breathtaking landscape of Yunnin, China.
This earthy, mellow tea is traditionally aged and fermented. It's smooth on the palate and rich in antioxidants; a delicious way to improve digestion, reduce inflammation and improve your mental focus.
Loose leaf tea by Naturopath Nataša Zaric
Packed in Canberra
Packaged in biodegradable packaging
Available in 80g
Share
How To Prepare

Use 1 teaspoon of tea for 1 cup of almost boiled water (around 90 degrees).
Steep for 3-4 minutes.
Same tea leaves can be used up to 3 times.
Shipping

We are shipping orders in 1 to 2 working days.  Express orders placed by 1pm AEST are sent same day. Once your order has shipped, it will arrive in 2 to 7 days depending on your destination.

For more details, read our Shipping Policy
View full details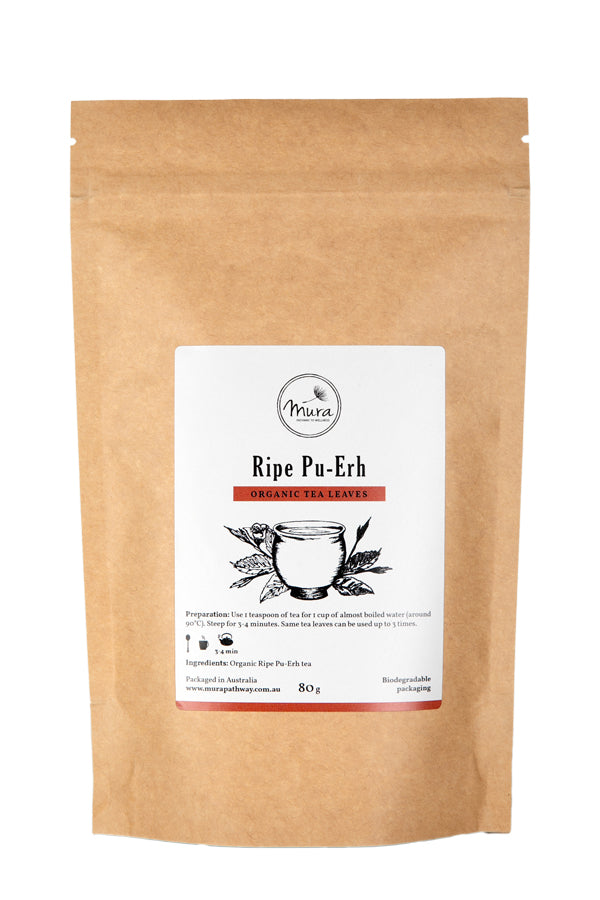 Ripe Pu-Erh Tea: Frequently Asked Questions
What are the benefits of ripe Pu-erh?

Ripe Pu-erh tea is rich in antioxidants that protect heart and skin health.

It's is reputed to assist with digesting fat and heavy meals, making it a great support for weight loss, diabetes, or after over-indulging in rich food.

Ripe Pu-erh is anti-inflammatory and can also assist with reducing anxiety and improving concentration.
What is the difference between raw and ripe Pu-erh?

Raw and ripe Pu-erh come from the same tea family (Camellia sinensis), but their processing is different.

Ripe Pu-erh tea leaves are piled up to a metre high and covered to retain moisture. This process is called "wet piling".

They ferment here for a period of one to two months, depending on the tea master's preferences.

Raw Pu-erh is roasted and sun-dried, followed by an extensive period of fermentation, sometimes up to several years.

Ripe Pu-erh offers a smoother brew and milder flavour than raw pu-erh.
What is Pu-erh tea?

Pu-erh is named after the city of Pu-erh in southeastern China's province of Yunnan. Like champagne, only tea that comes from this region can be correctly named "pu-erh".

Ripe Pu-erh is a true black tea that is fermented and aged, and is said to be more mellow than the standard black tea we're used to drinking.
Does ripe Pu-erh have caffeine?

Ripe Pu-erh does contain caffeine, although has less than a standard cup of black tea.

It's perfect for a gentle pick-me-up, but avoid drinking close to bedtime if you're sensitive to caffeine.
Organic

We only use the finest
natural ingredients.

Recyclable

All packaging is recyclable and eco conscious.

Cruelty Free

Our entire collection is vegan and cruelty free.

Hand Blended

All of our products are made in small batches for quality control.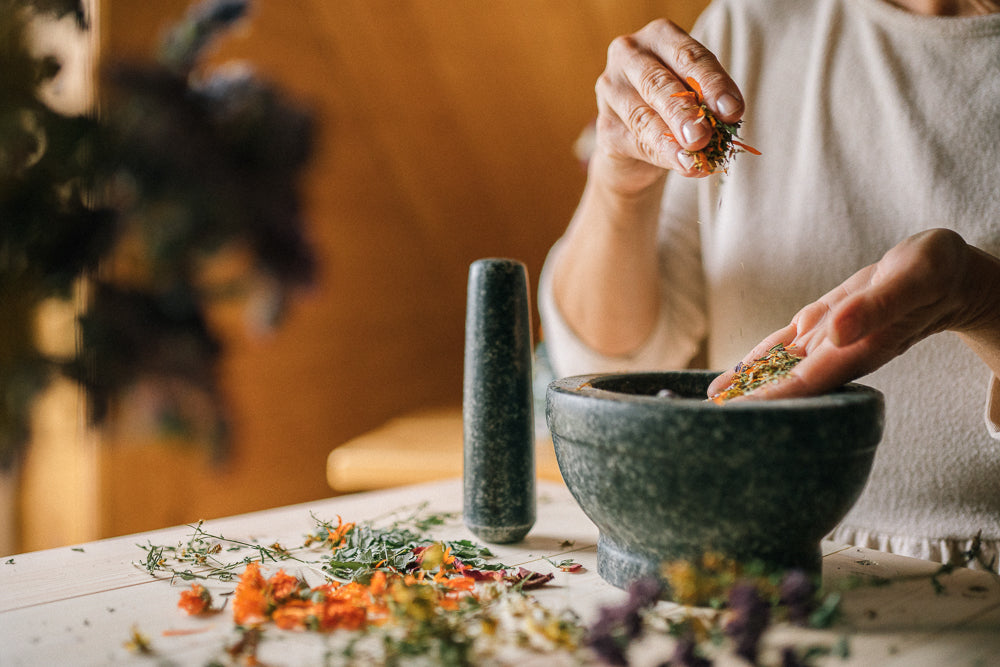 Organic ingredients
We always choose the finest natural ingredients, then expertly blend them to benefit your overall wellness.
You will never find fillers, flavour enchanchers, artificial colours and sweeteners in our products.