Regular price
Sale price
$33.00 AUD
Unit price
per
Sale
Sold out
A golden supercharged twist on the classic chai latte or turmeric latte.
This organic blend is excellent to help aid digestion, cardiovascular health, liver detoxification and as general anti-inflammatory for the whole body.
You can make this as a hot tea or chai latte. It can be served both hot or cold.
Hand blended loose leaf tea by naturopath Nataša Zaric
Made in Canberra
Packaged in biodegradable cardboard and cellulose-based natural cellophane
Available in 100g
Share
Ingredients

All Certified Organic Ingredients: Turmeric, Cinnamon Verum, Liquorice Root, Ginger Root, Green Cardamom Pods and Black Peppercorn.
How to Prepare

Hot Tea:

Use 1 teaspoon of tea for 1 cup of boiling water.
Steep for 10 minutes.
Strain and enjoy.

Chai Latte:

In a saucepan use 1 teaspoon of turmeric chai with ¾ cup of water and ½ cup milk of your choice.
Bring to a simmer and cook for about 7-10 minutes.
Strain and serve hot or cold.
Shipping

We are shipping orders in 1 to 2 working days.  Express orders placed by 1pm AEST are sent same day. Once your order has shipped, it will arrive in 2 to 7 days depending on your destination.

For more details, read our Shipping Policy
View full details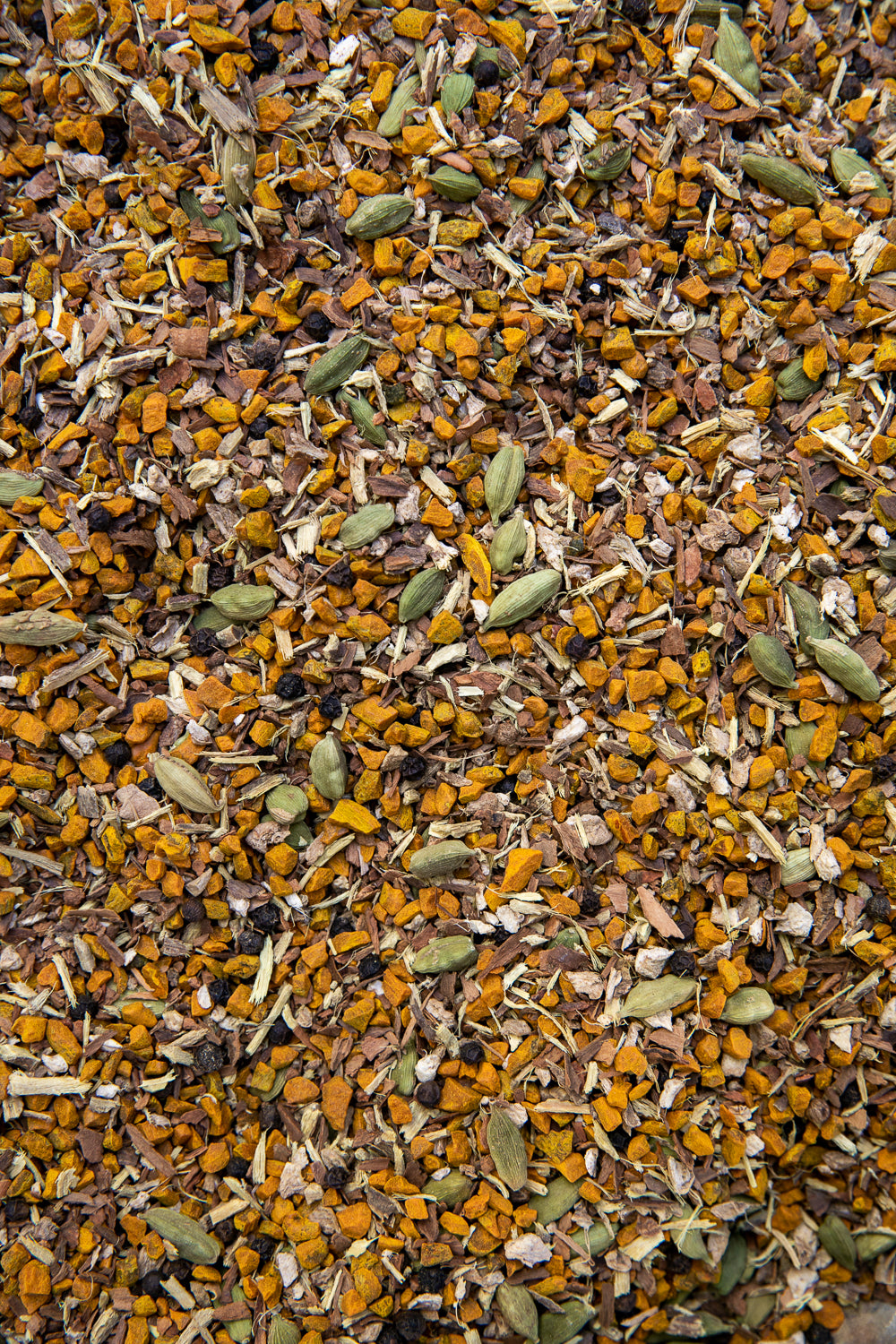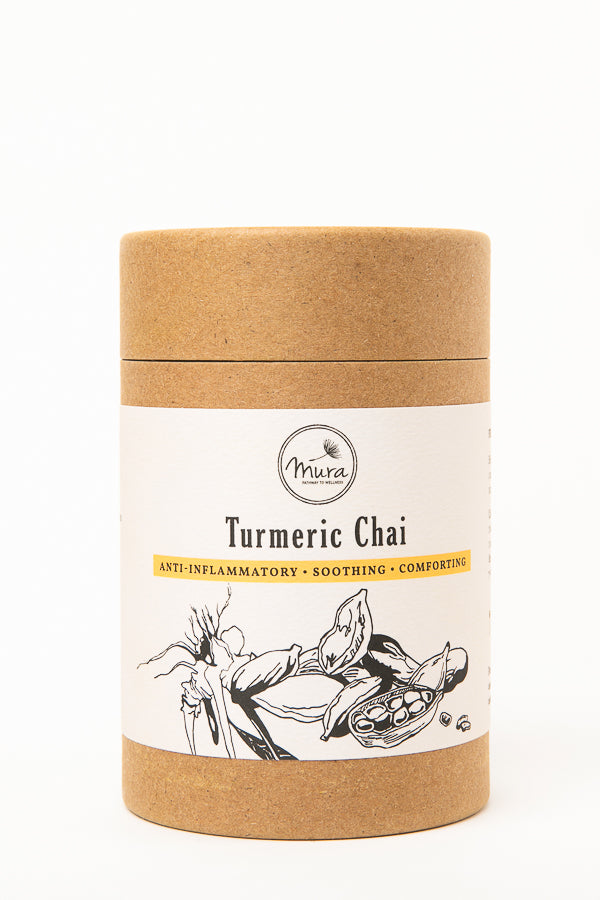 Turmeric Chai Tea: Frequently Asked Questions
What is turmeric chai tea good for?

Turmeric chai tea is like a supercharged version of a classic chai blend, helping to protect your cells and immune system while supporting good digestion.

Turmeric is a powerful anti-inflammatory and antioxidant that enhances liver function and supports good digestion. It's a warming spice that can assist with arthritis, liver, heart and skin health.

Cinnamon Verum is a warming spice that helps to calm the digestive tract by reducing bloating, cramps and flatulence. Traditionally used to ward off colds and flu, cinnamon is a delicious all-round addition to a chai blend.

Liquorice Root is a naturally sweet anti-inflammatory that protects the liver, stomach and intestinal tract. Liquorice is helpful as a gentle energy boost, for calming a cough, and supporting the adrenal glands through chronic stress.

Ginger Root is a warming herb that supports circulation and reduces inflammation. It's excellent for digestion, helping to reduce bloating, nausea and cramps.

Green Cardamom Pods are traditionally used for calming digestive complaints such as colic or heartburn. It's also helpful for coughs and chest infections and has a long history of Ayurvedic use.

Black Peppercorn is known for reducing gas and excess mucous. Pepper offers an energetic, warming boost that blends perfectly with other aromatic chai spices.
Does turmeric tea detox your body?

Turmeric supports healthy liver function, which allows your liver to do its job efficiently and clear toxins from your body. As an antioxidant and anti-inflammatory, it helps to protect your cells from damage such as free radicals.
Is it okay to drink turmeric tea at night?

This turmeric chai blend is caffeine-free and contains no energy-stimulating herbs. It's a perfect drink for winding down before bed, especially as your liver and digestive organs will benefit from the extra herbal support while you sleep.
Who should not drink turmeric chai?

Use caution if you are on antiplatelet or anticoagulant medication. Use caution in pregnancy as this tea contains cinnamon and ginger that are not recommended in large amounts.
What is the difference between chai tea and turmeric latte?

A chai tea is a tea infusion, prepared by steeping the herbs and spices in hot water until they're at the desired strength. A turmeric latte is prepared by simmering the ingredients in a saucepan with water and milk, creating a creamy, warming, golden drink. Mura also stocks a convenient Turmeric Chai Latte powder.
Lovely tea with amazing health benefits
An amazing blend of organic ingredients that tastes delicious while leaving your body feeling great. I've always struggled with the taste of turmeric products but both Mura's turmeric chai tea, as well as the latte blend, taste like a little treat!
Organic

We only use the finest
natural ingredients.

Recyclable

All packaging is recyclable and eco conscious.

Cruelty Free

Our entire collection is vegan and cruelty free.

Hand Blended

All of our products are made in small batches for quality control.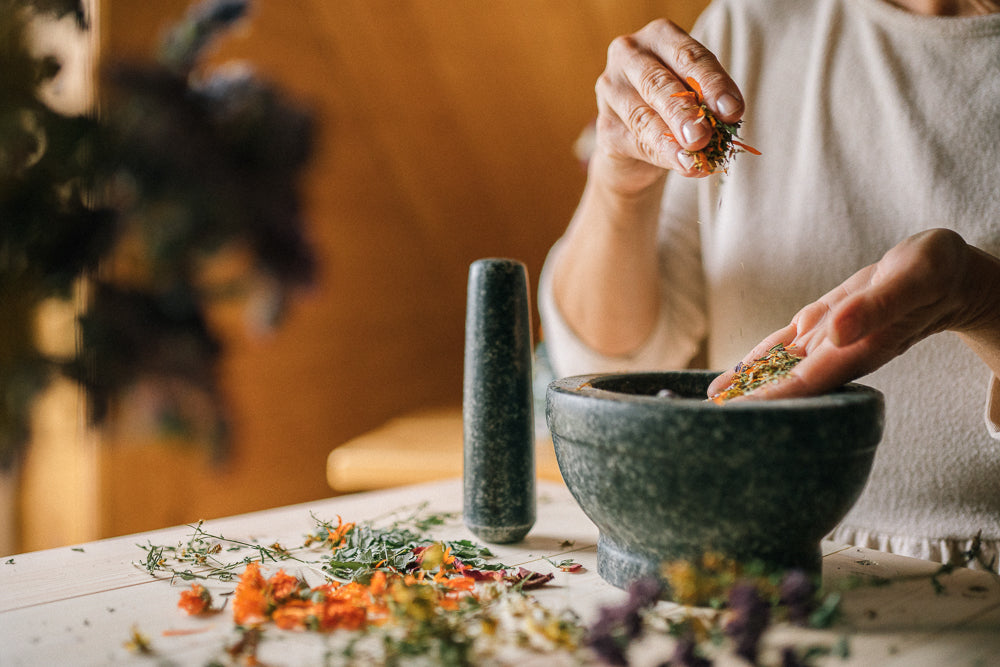 Organic ingredients
We always choose the finest natural ingredients, then expertly blend them to benefit your overall wellness.
You will never find fillers, flavour enchanchers, artificial colours and sweeteners in our products.