Regular price
Sale price
$24.00 AUD
Unit price
per
Sale
Sold out
Our organic sleep tea is the ideal soothing blend for a sound night's sleep. Gentle yet powerful natural relaxants, these herbal ingredients have been known for centuries to help quieten the day's chatter and transport you to sweet dreams.
This combination is not only relaxing but has a special affinity for those whose mind keeps on making to-do lists and just refuses to quieten.
So next time you're wrestling with getting some shut-eye, give our sleep tea a try!
Hand-blended loose-leaf tea by Naturopath Nataša Zaric
Made in Canberra
It is packaged in bio-degradable cardboard and cellulose-based natural cellophane
Available in 50g
Share
Ingredients

Certified Organic Ingredients: Passionflower, Vervain, Lavender and Rose Petals.

Conventional: Ziziphus.*

*Our source of Ziziphus may vary. More often than not it is certified organic but as we cannot guarantee that, we list it on our label as conventional. However, our current stock is certified organic.
How To Prepare

Use 1 teaspoon of tea for 1 cup of boiling water.
Steep for 5-10 minutes. Steeping time depends on the desired strength.
Enjoy half an hour before bedtime.
Shipping

We are shipping orders in 1 to 2 working days.  Express orders placed by 1pm AEST are sent same day. Once your order has shipped, it will arrive in 2 to 7 days depending on your destination.

For more details, read our Shipping Policy
View full details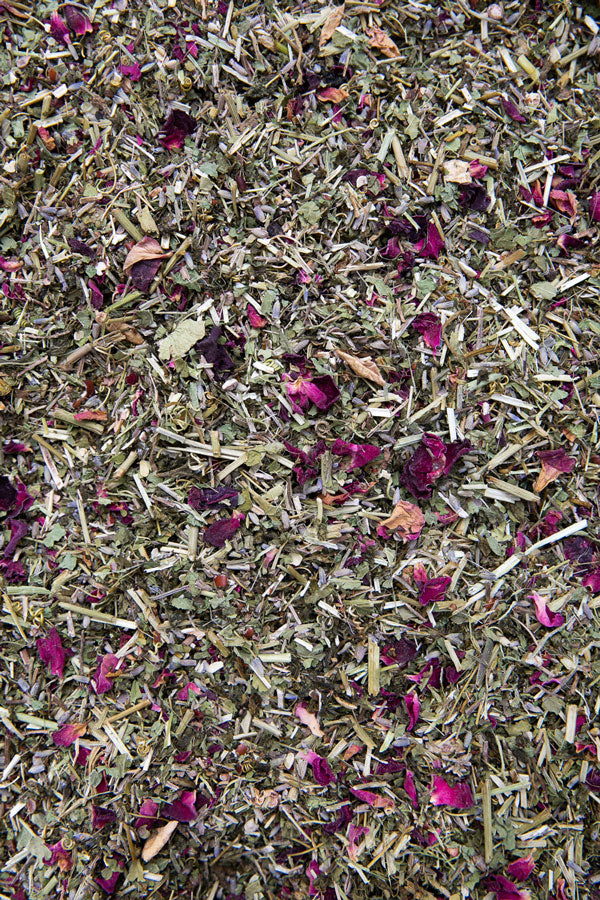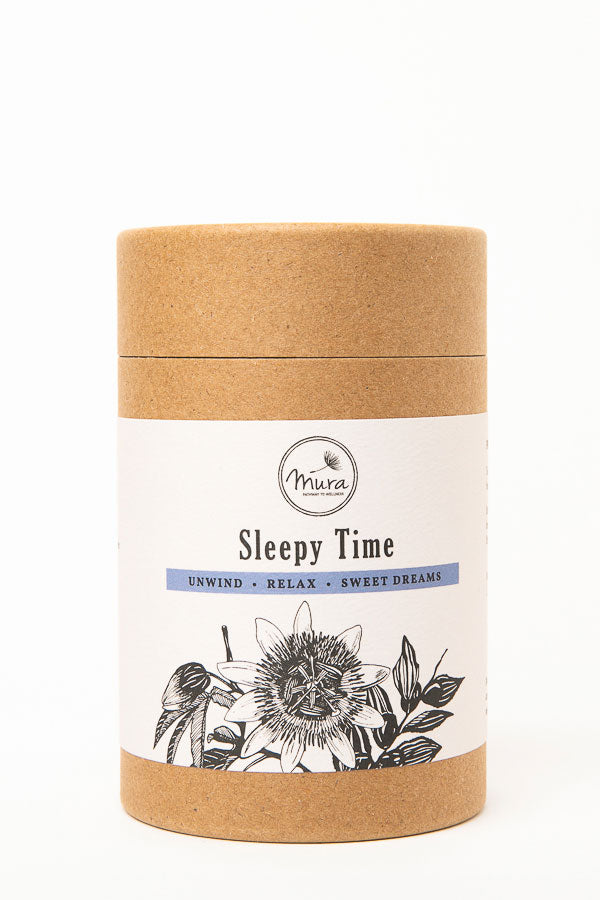 Sleep Tea: Frequently Asked Questions
What makes sleep tea effective?

Lavender is a Mediterranean shrub adorned with beautifully scented purple flowers, used for centuries as a relaxant for many aliments of nervous system like anxiety, depression, irritable bowel and insomnia. It is mostly used in a form of essential oil, but as a addition to a tea, it is very valuable in calming mind that is too overactive to fall asleep.

Passionflower is native to the southern part of North America, and it has been an old remedy for the nervous system. Today, it is a very popular remedy for insomnia, irritation, tension, muscle twitching, and cramps. This mild yet highly effective herb produces a calming effect and helps to promote normal sleep.

Rose petals are known to everyone! This beautifully fragrant flower is an old remedy to cool down the body and the mind, relaxing the limbs and calming the senses. The plant family of roses is very large, and many of its members are extensively used medicinally.

Vervain, yet another beautiful herb with blue flowers, indicating its nervine function. Blue is a colour of calm and relaxation, and this gentle flower is specifically helpful for those with long to-do lists, who just can't seem to stop making them when their head hits the pillow.

Ziziphus is native to Asia and has been used in traditional medicine for thousands of years. Its seeds are used as a herbal remedy, which have mild sedative qualities and can help with emotional stress, the onset of sleep, night sweats, and palpitations. The fruit of this plant is edible and is commonly referred to as a "Chinese date". It is rich in fiber, vitamin C, B vitamins, and fatty acids.
Does sleep tea actually work?

We have been making Sleep Tea for almost nine years now, and our clients report much better sleep onset and longer, more restful sleep. If you are experiencing heightened anxiety, you can drink a cup of CalmingTea, or Sleep Tea during the day to relax and release tension.
Is sleep tea addictive?

No, sleep tea is definitely not addictive, nor does it produce any side effects or drowsiness when consumed or later.
How often should I drink sleep tea?

You can drink Sleep Tea every evening if you need to wind down, about half to one hour before sleep. It can be consumed during stressful periods anytime, up to three times a day.
Organic

We only use the finest
natural ingredients.

Recyclable

All packaging is recyclable and eco conscious.

Cruelty Free

Our entire collection is vegan and cruelty free.

Hand Blended

All of our products are made in small batches for quality control.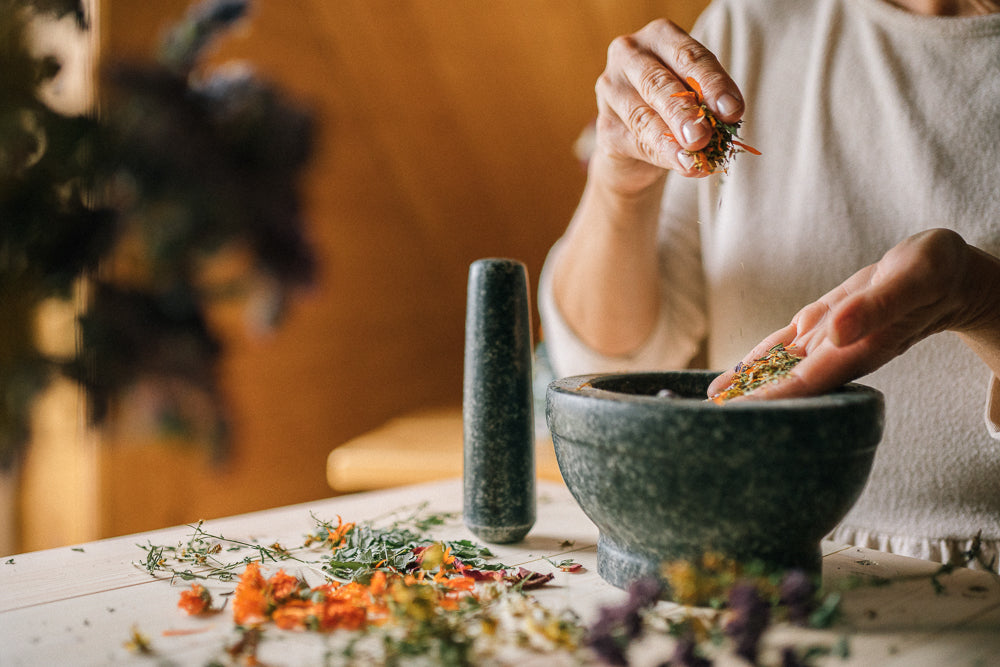 Organic ingredients
We always choose the finest natural ingredients, then expertly blend them to benefit your overall wellness.
You will never find fillers, flavour enchanchers, artificial colours and sweeteners in our products.