Regular price
Sale price
$48.00 AUD
Unit price
per
Sale
Sold out
This gut repair blend contains herbs and nutrients that can help repair the cells of your stomach and intestines.
It's a gentle, natural powder that may help to reduce inflammation and signs of a leaky gut and reflux.
With its powerful ingredients and easy to use form, this is an effective solution to naturally improve your gastrointestinal health.
Hand-blended superfood powder by naturopath Nataša Zaric
Made in Canberra
Packed in biodegradable packaging
Available in 140g
Share
Ingredients

All Certified Organic Ingredients: Slippery Elm (26%), Marshmallow Root (14%), Liquorice Root (11%), Turmeric (11%) and Aloe Vera (8%).

Conventional, non-GMO, vegan: L-Glutamine (30%)
How To Prepare

For best results, mix 1 teaspoon of powder with a glass of lukewarm water.
Drink immediately on an empty stomach.
Shipping

We are shipping orders in 1 to 2 working days.  Express orders placed by 1pm AEST are sent same day. Once your order has shipped, it will arrive in 2 to 7 days depending on your destination.

For more details, read our Shipping Policy
View full details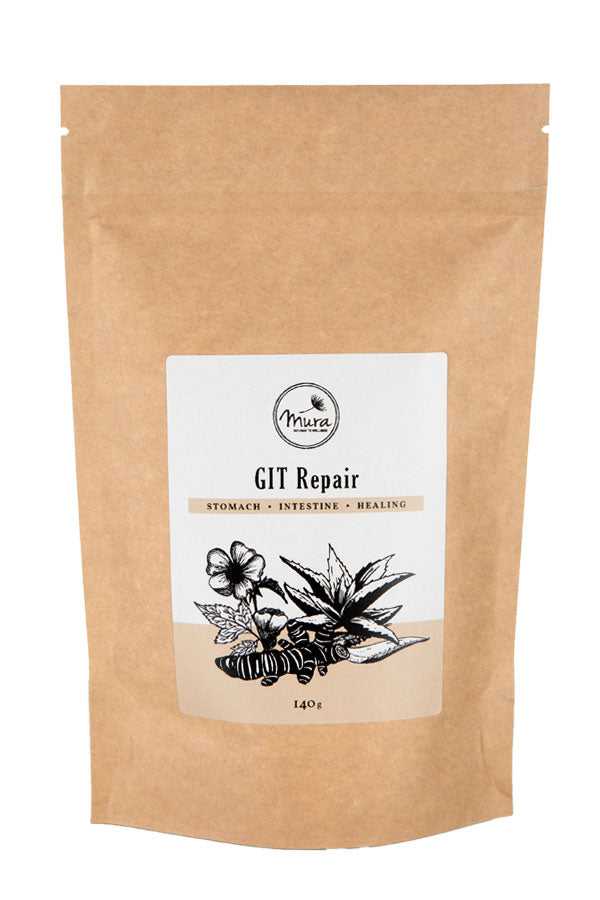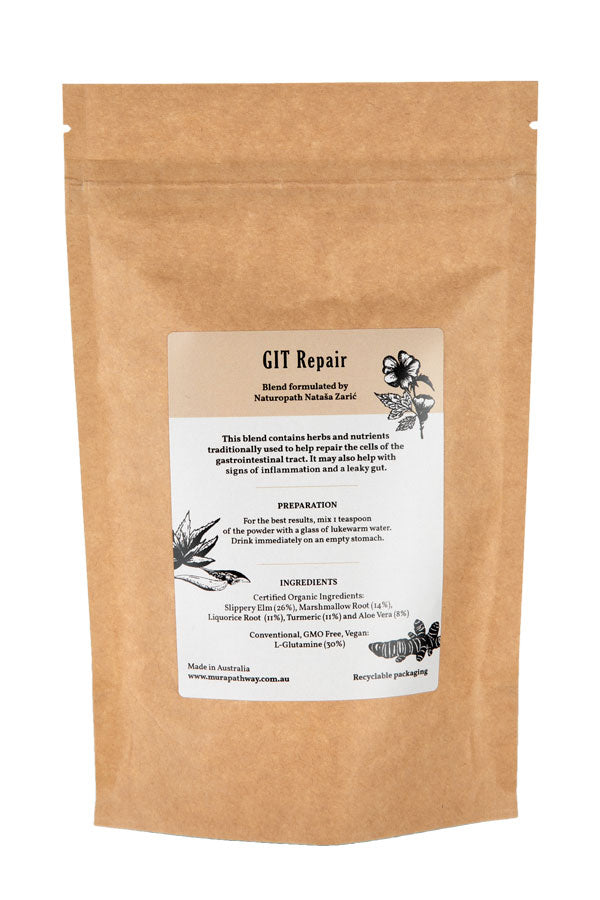 Gut Repair: Frequently Asked Questions
What are the benefits of gut repair powder?

This gut repair supplement is designed to gently reduce inflammation and return your digestive system to optimal health and function.

Slippery Elm is rich in fibre and is well known for its soothing action on the gut mucosa and enterocytes. . It's traditionally been used for conditions such as ulcerative colitis, irritable bowel syndrome (IBS), Crohn's disease and reflux. Slippery elm is helpful for regular bowel movements as well as reducing inflammation in the entire gastrointestinal tract.

Marshmallow Root is high in mucilage that helps to reduce gut inflammation and repair the gut lining. Like slippery elm, it creates a protective layer for the gut while also stimulating healthy cell growth to repair damage.

Liquorice Root is an anti-inflammatory that can be helpful for leaky gut and ulcers in the gastrointestinal tract. It's also helpful for supporting people with chronic stress that's often linked to gut inflammation.

Turmeric supports healthy digestion and liver function. It's a powerful anti-inflammatory and antioxidant that has been used to help treat IBS, ulcerative colitis and inflammatory bowel disease.

Aloe Vera is a succulent that has a very potent inner gel which relieves stomach pain and gut inflammation. It also helps with a leaky gut and acid reflux. The polysaccharide glucomannan (a dietary fibre) and the plant growth hormone gibberellin found in aloe vera increase collagen after being consumed, which is ideal for healing the gut.

L-Glutamine is an amino acid that helps to support healthy gut function. It's used as a support treatment for a wide variety of gut conditions and helps to create a healthy gut lining. L-glutamine reduces intestinal inflammation and encourages a good balance of gut bacteria.
What is the best way to repair your gut?

There are many reasons a gut might be inflamed or damaged, including certain diseases, chronic stress and poor dietary choices.

Treatment will vary depending on the cause, but an anti-inflammatory diet and stress relief will likely be beneficial.

Using a gut health powder such as this Gut Repair can restore and protect your gut, provide relief from inflammation or ulceration, and improve your overall digestion.

It's important to get guidance from your health care professional as causes and repairs of your gut can vary greatly from person to person.
What super foods are good for your gut?

Foods that are good for your gut depend largely on your individual digestion and any food sensitivities.

Generally, a diet rich in fibre from fresh fruit and vegetables is a good basis, along with plenty of water.

Turmeric and aloe vera are two foods that are considered particularly good for gut health. Both of these herbs are in our Gut Repair powder.

For a little extra support, try our Digestive Tea that contains specially selected herbs and spices for optimal gut function.
No more Heartburns
The only Natural product that really helped me with my long term heartburns issue. Finally free from sleepiness after meals and most of all not depending on gastro-protectors anymore!!!
Organic

We only use the finest
natural ingredients.

Recyclable

All packaging is recyclable and eco conscious.

Cruelty Free

Our entire collection is vegan and cruelty free.

Hand Blended

All of our products are made in small batches for quality control.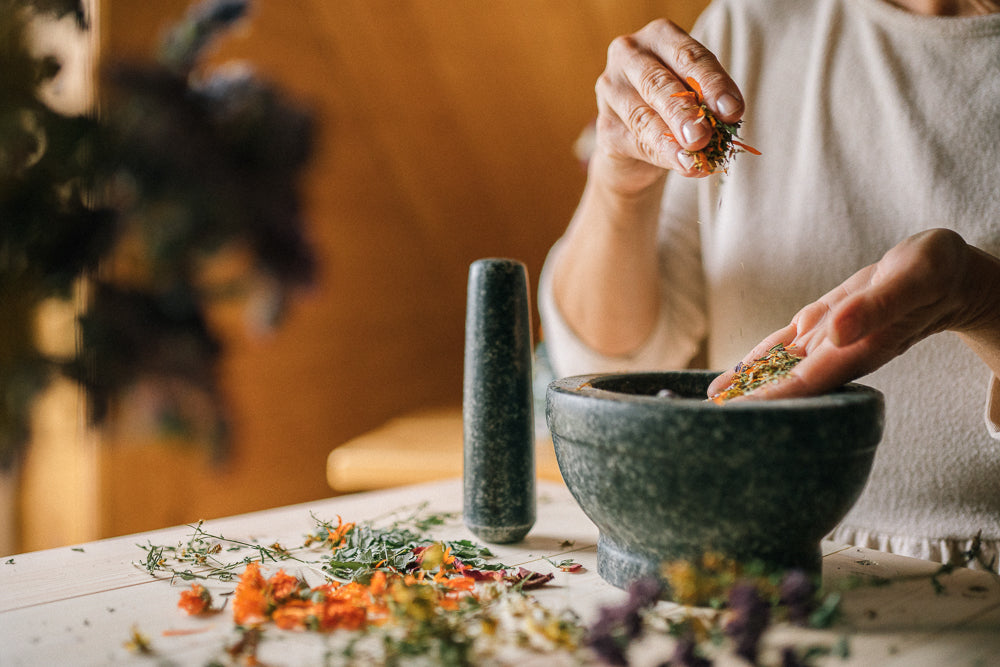 Organic ingredients
We always choose the finest natural ingredients, then expertly blend them to benefit your overall wellness.
You will never find fillers, flavour enchanchers, artificial colours and sweeteners in our products.