Regular price
Sale price
$24.00 AUD
Unit price
per
Sale
Sold out
Digestive tea is a carefully chosen selection of herbs, traditionally known to relieve nausea, aid food transition from the stomach to the small intestine, relieve bloating and help the absorption of nutrients from your meal.
If you're looking for less bloating, relief from flatulence, and a more comfortable tummy, this will be your best friend!
For optimal results, drink digestive tea before or after eating. This will help ensure that your digestive system is functioning properly.
Hand-blended loose-leaf tea by Naturopath Nataša Zaric
Made in Canberra
Packaged in bio-degradable cardboard and cellulose-based natural cellophane
Available in 60g
Share
Ingredients

All Certified Organic Ingredients: Ginger, Lemongrass, Hibiscus, Calendula Flowers, Lemon Peel and Curry Leaf.
How To Prepare

Use 1 teaspoon of tea for 1 cup of boiling water.
Steep for 5-10 minutes. Steeping time depends on the desired strength.
Enjoy warm or cold.
Same tea can be used up to 3 times.
Shipping

We are shipping orders in 1 to 2 working days.  Express orders placed by 1pm AEST are sent same day. Once your order has shipped, it will arrive in 2 to 7 days depending on your destination.

For more details, read our Shipping Policy
View full details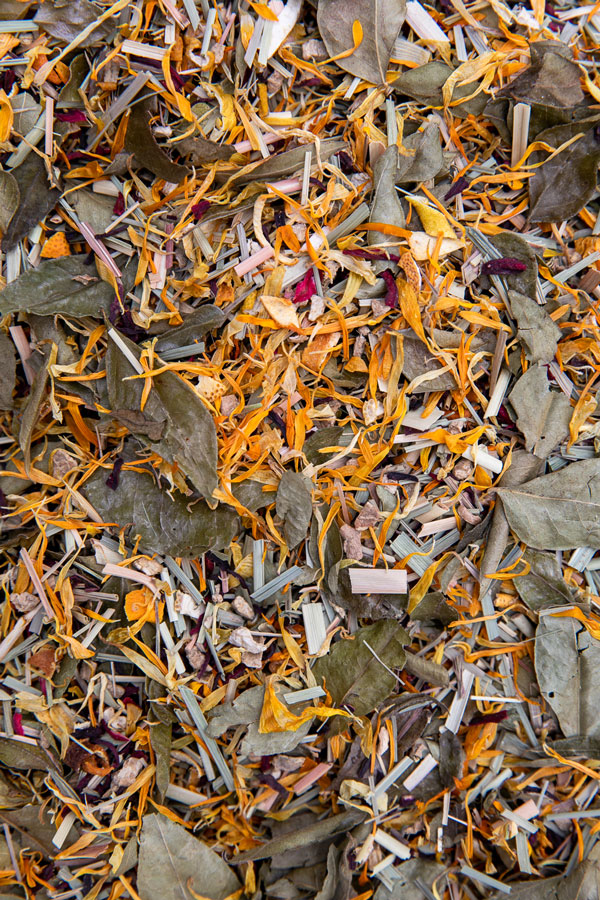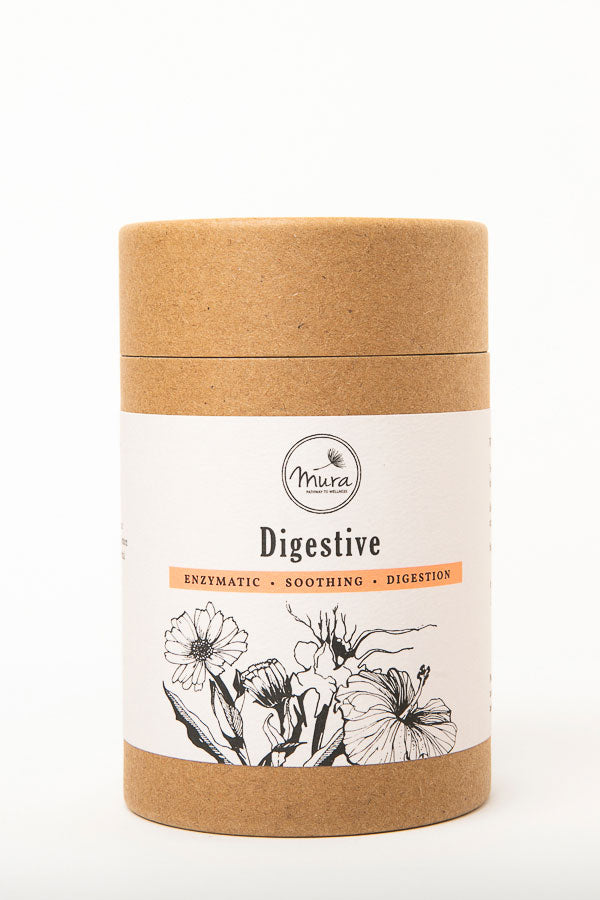 Digestive Tea: Frequently Asked Questions
What is in digestive tea that makes it effective?

Digestive tea is a blend of herbs and spices designed to support optimal digestion. Here is a breakdown of all of the herbs you'll find in this tea:

Ginger root is a well-known remedy that is warming for the stomach, used widely for nausea. It is an aromatic digestive that helps to calm the stomach while promoting the digestion of its contents. It has been used for centuries for general health, helping with colds, sluggish circulation, digestion, as well as relief of pain and inflammation.

Lemongrass is native to India, where it has been used in cooking and medicine for centuries. In Australia, we have native lemongrass, which has been used for thousands of years by Aboriginal people as a cooking herb as well as a healing herb for colds, fever, skin sores and digestion. It has only been adopted in Western herbalism in the last century. Today, it is a well-known remedy to relieve gastrointestinal spasm, colic and gas. It is also a useful tonic for the kidneys, fever, colds and diarrhea. Its taste is cooling and slightly sour.

Hibiscus is considered a sacred plant in India. Its flowers have been long used in Middle eastern and Ayurvedic medicine. Hibiscus flower is very rich in vitamin C, slightly sour in taste, it cools down inflamed organs, adding relief to overheated liver and stomach. It can sooth diarrhoea from an irritable colon.

Calendula is a slightly warming, purifying flower that aids in detoxification of the lymph, liver, and skin. It has healing properties for all tissues, making it a prime remedy for all skin issues. It also helps to heal the mucosal layers of the gastro-intestinal tract, aiding in the healing of ulcers, relieving stomach upsets, nausea, and sluggish liver function. This beautiful flower is said to warm and heal places that the sun cannot reach.

Lemon Peel has been traditionally used in alongside lemon juice and lemon peel oil in herbal medicine for a very long time. It has beneficial effects on many body systems, but in terms of digestion it can help to reduce excessive appetite and cravings for sugar, as well as indigestion and gas. It can also help to relieve nausea and heartburn.

Curry leaf is a shrub native to Southeast India. It has been traditionally used in Indian cooking and Ayurvedic medicine for over 3000 years. Curry leaves can aid carbohydrate digestion and metabolism, therefore are classified as anti-diabetic. They have natural antibacterial and anti-inflammatory properties, and are a good source of iron.
When should I drink digestive tea?

It is recommended to drink digestive tea before or after larger meals, two to three times a day.
Does digestive tea help with constipation?

Digestive tea helps with stomach phase of digestion, so the food is better broken down and easier travels to you intestine. If you have other reasons for constipation, like sluggish bowel movement (peristalsis), low fiber diet or disturbed microbiome, you will need to address that with your health practitioner.
Can you drink too much digestive tea?

A healthy individual can drink as much as you like of this herbal mix, if you are not pregnant. In pregnancy, we recommend up to two cups a day.
How long does it take for digestive tea to work?

You might already feel smoother digestion after the first day, but it could take up to a week to experience calmer and smoother digestion. If you don't notice any changes, please consult your healthcare practitioner.
Is this blend suitable for children?

Even though there are no specific reasons to avoid this tea for children, we would recommend trying small amounts from age 4. Ginger is a pungent ingredient, so it may be too strong for some children, while others may enjoy it in small amounts.
So soothing
This tea works every time, especially after the occasional overindulge meal - totally soothing. Also nice for just a really cleansing tea.
Organic

We only use the finest
natural ingredients.

Recyclable

All packaging is recyclable and eco conscious.

Cruelty Free

Our entire collection is vegan and cruelty free.

Hand Blended

All of our products are made in small batches for quality control.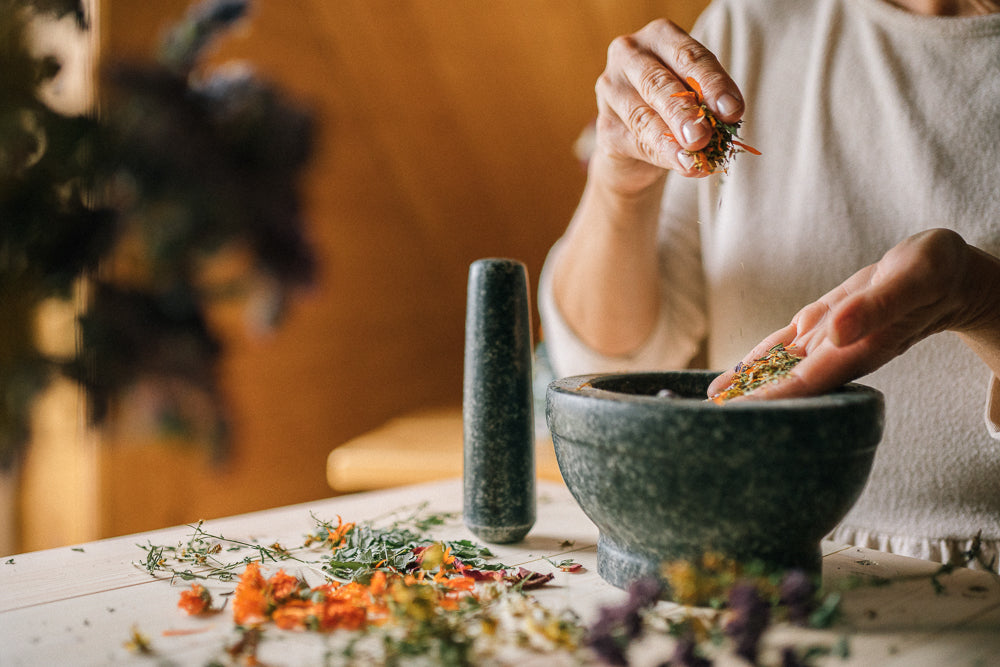 Organic ingredients
We always choose the finest natural ingredients, then expertly blend them to benefit your overall wellness.
You will never find fillers, flavour enchanchers, artificial colours and sweeteners in our products.