Regular price
Sale price
$29.00 AUD
Unit price
per
Sale
Sold out
Take care of your body with this smooth and delightful blend that harnesses the power of ingredients like beetroot, cinnamon, turmeric and ginger.
Experience the nourishment that comes from a beetroot chai latte that is anti-inflammatory, and aids in boosting your digestion and immunity.
Hand-blended latte powder by naturopath Nataša Zaric
Made in Canberra
Packed in biodegradable packaging
Available in 100g
Share
Ingredients

All Certified Organic Ingredients: Beetroot, Hibiscus Flower, Rosehip, Cinnamon Verum, Turmeric, Cardamon, Ginger and Black Peppercorns.
How To Prepare

Use 1/2 teaspoon of powder for 1 cup of latte.
Mix or whisk with 1 tablespoon of warm water.
Add steamed or frothed milk of your choice.
Shipping

We are shipping orders in 1 to 2 working days.  Express orders placed by 1pm AEST are sent same day. Once your order has shipped, it will arrive in 2 to 7 days depending on your destination.

For more details, read our Shipping Policy
View full details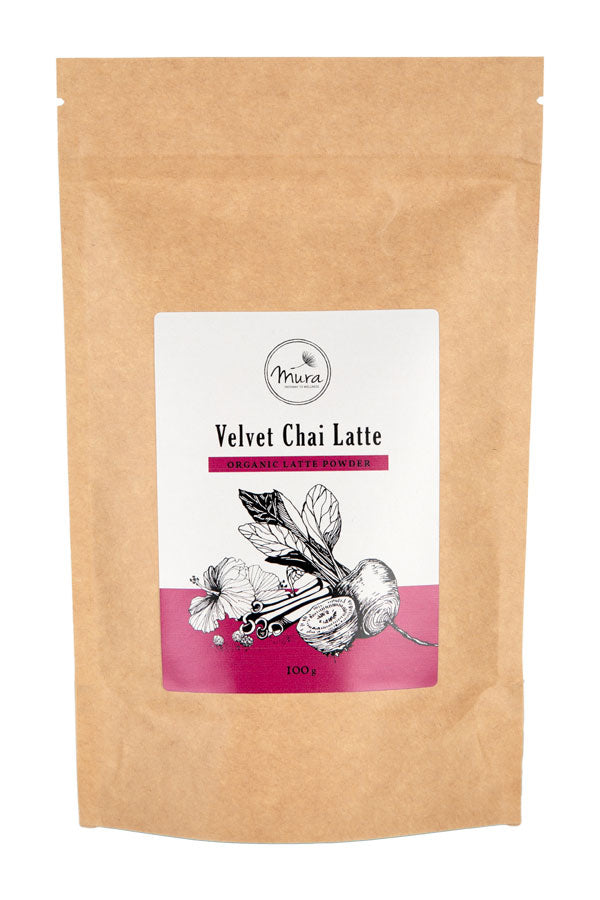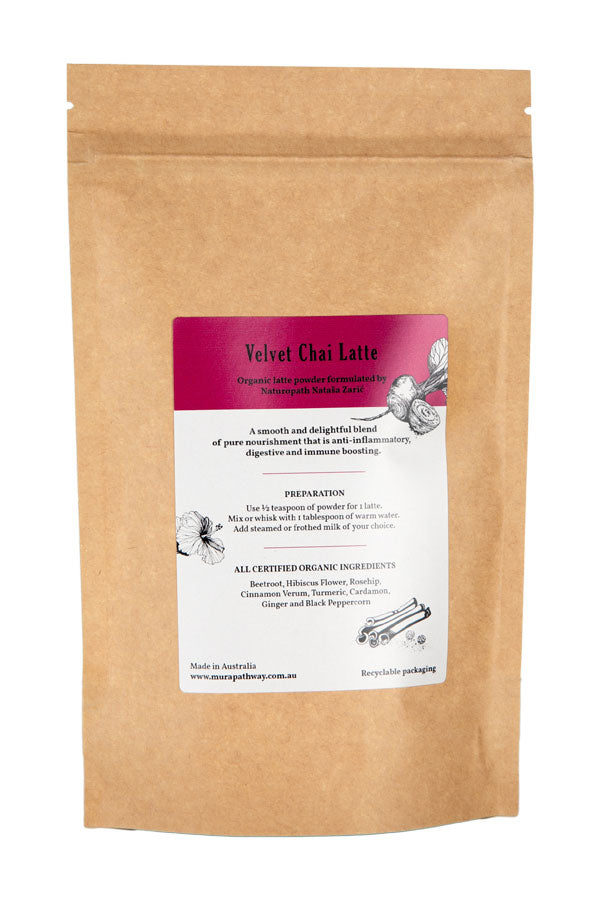 Velvet Latte: Frequently Asked Questions
What are the benefits of velvet latte?

This velvet latte is the perfect blend of anti-inflammatory ingredients which help to build immune support.

Beetroot is high in essential vitamins and minerals like potassium, iron, and Vitamin C that your body needs to function properly. It also has high fibre content, which is important for maintaining good digestive health.

Hibiscus Flower is packed with antioxidants, and has been found to have positive effects on the body through lowering blood pressure, boosting liver health, and inhibiting bacterial growth.

Rosehip is used to reduce inflammation in the body, with high antioxidant levels making it a powerful herbal medicine for warding off disease and relieving pain.

Cinnamon Verum is a warming spice that helps to calm the digestive tract by reducing bloating, cramps and flatulence. Traditionally used to reduce the occurrence of colds and flu, cinnamon is a delicious all-round addition to a velvet blend.

Turmeric is a powerful anti-inflammatory and antioxidant that enhances liver function and supports good digestion. It's a warming spice that can assist with arthritis, liver, heart and skin health.

Cardamon is a perennial herb used widely for its antioxidant, anti-inflammatory and antibacterial properties. Cardamom also has the ability to reduce cholesterol and blood pressure, protecting organs like your heart and brain.

Ginger helps to speed up our digestion, and due to its main bioactive compound, gingerol, has potent anti-inflammatory and antioxidant properties which help improve our defences against common flus and colds.

Black Peppercorn is known for reducing gas and excess mucous. Pepper offers an energetic, warming boost that blends perfectly with other ingredients and boosts the absorption of turmeric by 2000%.
What is a superfood latte?

Just as with a normal latte, superfood lattes are milk-based drinks. However, instead of coffee, the main ingredients are superfoods.

What makes something a "superfood" is simply if it has high levels of essential nutrients, is linked to disease prevention, or has several health benefits.
Are chai lattes healthy?

The healthiness of a particular latte will come down to the person making it.

More generally, chai has a number of antioxidants which helps to prevent disease and boost immunity. However, if you're buying your latte from a cafe to-go, many recipes out there contain large levels of sugar, fillers and preservatives which can counteract any potential benefits.
Organic

We only use the finest
natural ingredients.

Recyclable

All packaging is recyclable and eco conscious.

Cruelty Free

Our entire collection is vegan and cruelty free.

Hand Blended

All of our products are made in small batches for quality control.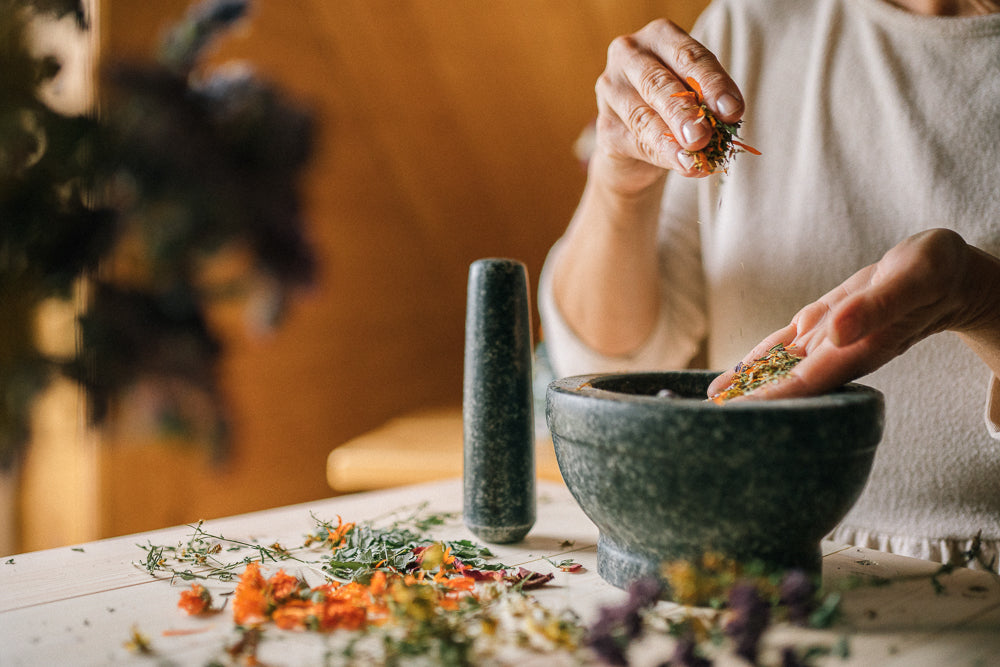 Organic ingredients
We always choose the finest natural ingredients, then expertly blend them to benefit your overall wellness.
You will never find fillers, flavour enchanchers, artificial colours and sweeteners in our products.