Regular price
Sale price
$35.00 AUD
Unit price
per
Sale
Sold out
Refresh and cool down with this carefully formulated Super Berry Tea blend, packed with superfoods, antioxidants and nutrients.
In our everyday lives, our bodies are under attack by free radicals from various environmental sources. This tea protects your body from oxidative stress, caused by free radicals in the environment. Excellent for glowing skin and reducing inflammation.
You will feel hydrated, lighter, and healthier.
This tea can be enjoyed as a hot or iced tea.
Hand-blended loose-leaf tea by Naturopath Nataša Zaric
Made in Canberra
Packaged in biodegradable cardboard and cellulose-based natural cellophane
Available in 100g
Share
Ingredients

All Certified Organic Ingredients: Rosehip, Elderberry, Goji Berry, Bilberry and Schisandra Berry.
How To Prepare

Hot Tea:

Use 1 teaspoon of tea for 1 cup of boiling water.
Steep for 10 minutes.
Same tea can be used up to 3 times.

Iced Tea:

Steep 1 teaspoon of tea in 1 cup of boiling water, and leave until it cools down.
Strain, add ice, lemon and/or sweetener of your choice if desired.
Shipping

We are shipping orders in 1 to 2 working days.  Express orders placed by 1pm AEST are sent same day. Once your order has shipped, it will arrive in 2 to 7 days depending on your destination.

For more details, read our Shipping Policy
View full details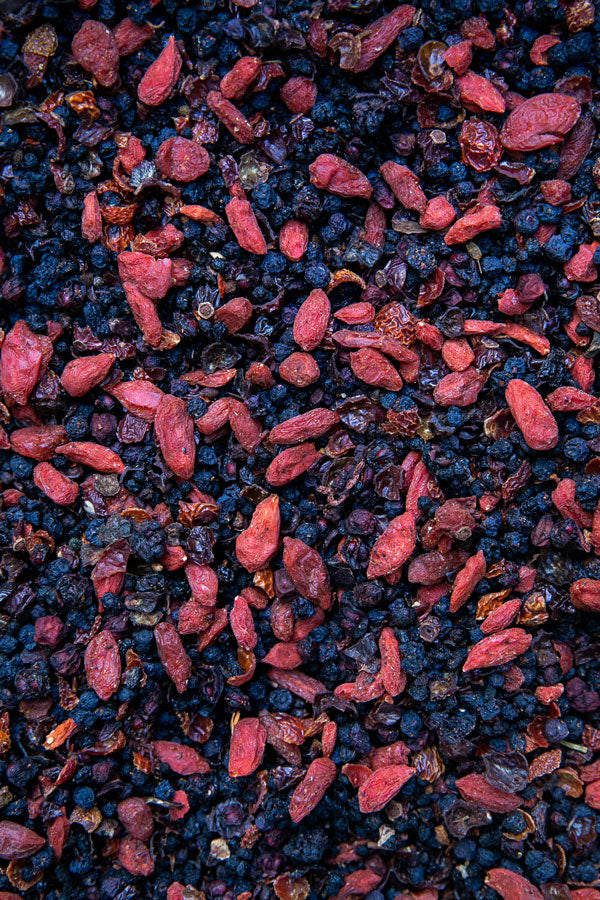 Super Berry Tea: Frequently Asked Questions
What are the benefits of super berry tea?

Super Berry Tea combines powerful berries that support glowing health and vitality. Rich in antioxidants, vitamins and nutrients, this tea will nourish you from the inside-out.

Rosehips are naturally high in vitamin C, beta-carotene and antioxidants. These pretty red fruit buds are excellent for supporting collagen production, meaning healthy, elastic skin. Rosehips are also supportive of healthy gut function and useful for reducing symptoms of diarrhoea.

Elderberries are a sweet, dark purple berry, native to Europe. Rich in antioxidants and minerals, these berries have immune-enhancing, antiviral and histamine-calming properties. They provide an effective all-round remedy for allergy sufferers of any age.

Goji Berries have been used in Traditional Chinese Medicine for supporting the kidneys and revitalising people with low energy reserves. Goji Berries are also used to support eye and liver health.

Bilberry fruit is packed with anti-inflammatory properties along with vitamin C and chromium. It helps to protect blood vessels, improve eyesight, reduce stomach ulcers and may prevent cancer.

Schisandra Berries are known as "the five-flavour fruit". They contain powerful antioxidants that protect the liver and heart. Rich in vitamins A, C and E as well as other vitamins and mineral, Schisandra is also helpful as a nerve tonic and adaptogen.
What is a super berry?

A super berry contains high quantities of antioxidants, flavonoids, vitamins and minerals that act to protect the body from free radicals and maintain glowing health.
5
Super addictive and refreshing tea. So delicious and revitalising, especially on ice on a hot day. A small box goes a really long way as you can boil the tea 2-3 times and still taste amazing!
5
I really love this tea, it's so refreshing on a hot day and warming on a cool day. I can't recommend it highly enough ❤️
Organic

We only use the finest
natural ingredients.

Recyclable

All packaging is recyclable and eco conscious.

Cruelty Free

Our entire collection is vegan and cruelty free.

Hand Blended

All of our products are made in small batches for quality control.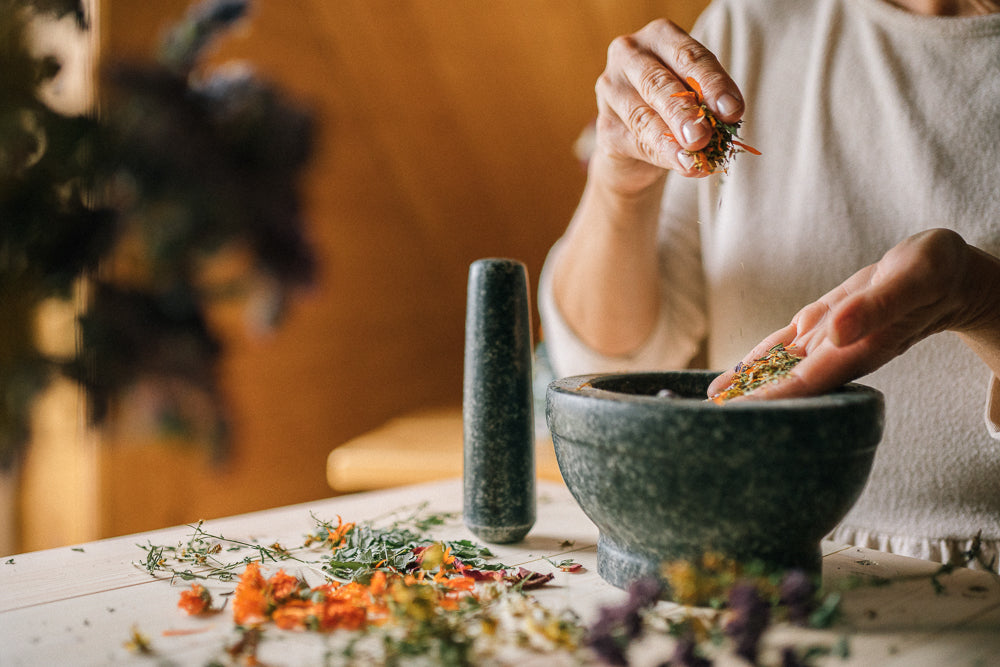 Organic ingredients
We always choose the finest natural ingredients, then expertly blend them to benefit your overall wellness.
You will never find fillers, flavour enchanchers, artificial colours and sweeteners in our products.