Regular price
Sale price
$35.00 AUD
Unit price
per
Sale
Sold out
Protect your health with a cup of Pine Needle Tea for year-round immune support.
This powerful blend of herbs has an abundance of antioxidants and adaptogens to support your mood and enhance your skin health.
Rich in anti-inflammatories and antimicrobials, this tea blend can help treat and prevent infections and relieve coughs.
Drink this immune-enhancing blend before, during, and after a cold, flu or any infection.
Enjoy its benefits for anti-aging, respiratory health, healthy skin and eyes, stress reduction, and better mood.
Hand blended loose leaf tea by Naturopath Nataša Zaric
Made in Canberra
Packaged in biodegradable cardboard and cellulose-based natural cellophane
Available in 90g
Share
Ingredients

Wildcrafted: Pine Needles. Certified Organic Ingredients: Ashwagandha, Elderberry, Fennel Seed, Star Anise, Astragalus, Dandelion Leaf, Lemon Myrtle, Lemon Verbena and Schisandra Berry.
How To Prepare

Use 1 teaspoon of tea for 1 cup of boiling water.
Steep for 10 minutes.
Same tea can be used up to 3 times.
Shipping

We are shipping orders in 1 to 2 working days.  Express orders placed by 1pm AEST are sent same day. Once your order has shipped, it will arrive in 2 to 7 days depending on your destination.

For more details, read our Shipping Policy
View full details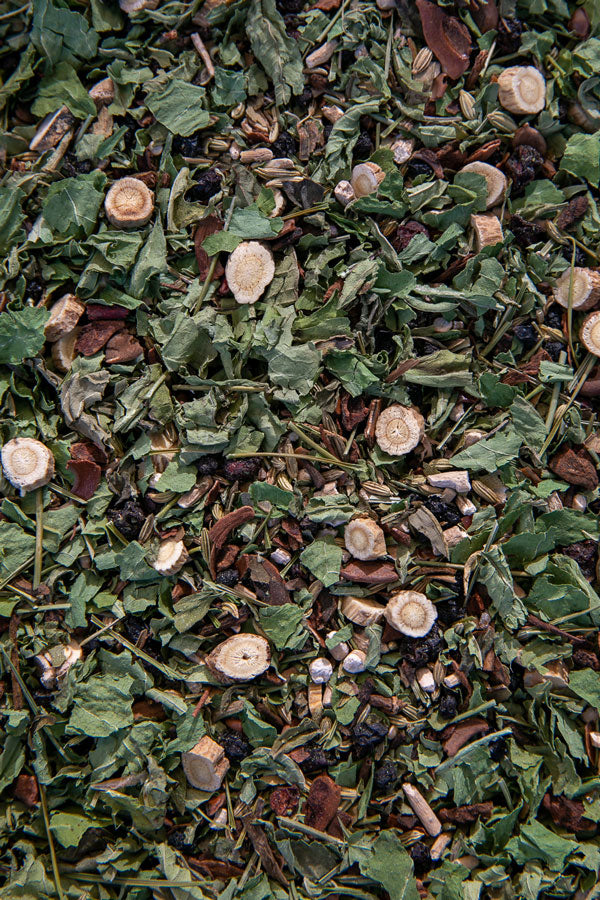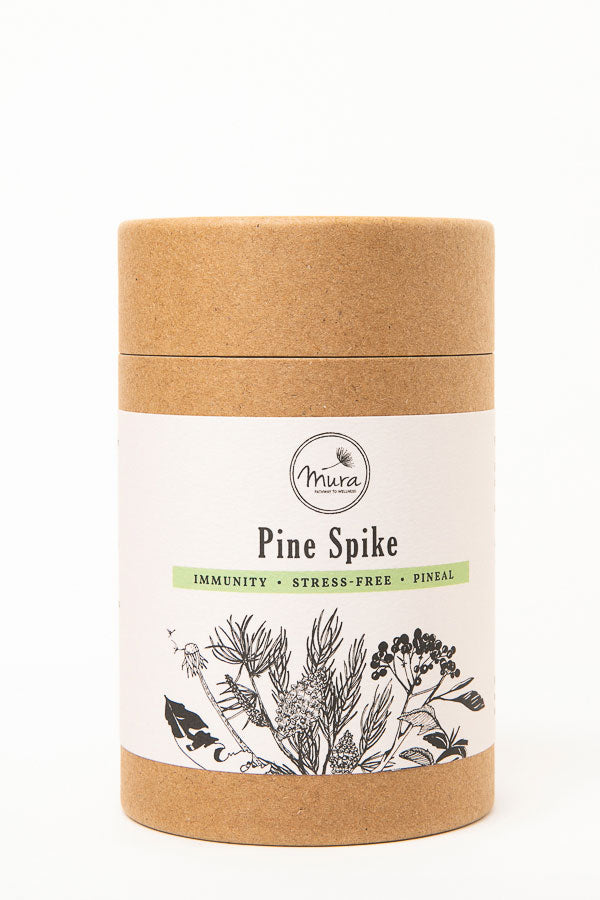 Pine Needle Tea: Frequently Asked Questions
What makes this pine tea blend beneficial?

Pine Needles contain Suramin and Shikimic acid; powerful anti-parasitic and antiviral constituents that reduce the viral RNA load and infections within human cells. Pine needles have been used in many cultures around the world as an immune and respiratory remedy for thousands of years.

Pine needle tea is also a great source of Vitamin C, which is known for its antioxidant and immune-supporting properties.

Ashwagandha is a reputable tonic with research-proven
anti-inflammatory and immune-modulating action. It has been used for thousands of years in Ayurvedic medicine to build strength and resilience, especially during intense periods of stress or during and after sickness.

Astragalus is one of the favourites in Chinese medicine. It's an immune and cardiovascular-enhancing tonic that rebuilds the body after and during prolonged stress periods and chronic fatigue. It also assists in helping prevent future infections by promoting good leukocyte function.

Dandelion Leaf has a long history in helping the body clear out toxins and pollutants. Traditionally known as a "spring tonic," it's rich in carotene, potassium and a wide range of vitamins and minerals. Dandelion is ideal for improving bile flow, bloating, indigestion, and cystitis. This herb is anti-inflammatory, antioxidant and a wonderful addition to any detox blend.

Elderberries are rich in antioxidants and minerals and
have immune-enhancing, antiviral and histamine-calming properties. They have been used for conditions of stagnant blood and other body fluids, congestion of the respiratory tract, swollen glands, to enhance digestion and kidney function and much more. They have been praised to reduce severity of influenza and other viruses.

Fennel Seed has a lovely aniseed-like flavour and is traditionally used for bloating, gas and improving milk production in lactating mothers. It has anti-inflammatory properties and can be helpful in improving a poor appetite or reducing flatulence. Fennel Seeds are rich in essential oils with anti-microbial properties.

Lemon Myrtle is a native Australian bush herb traditionally used by Indigenous Australians for all sorts of immune issues, including the common cold with a sore throat, sinusitis, bronchitis, headaches, mouth ulcers, indigestion and as a sanitiser and food flavouring herb.

Lemon Verbena has a strong anti-inflammatory effect and is helpful for arthritis, joint stiffness, and fighting bacterial infections. It's an excellent herb for improving digestion, relieving gut cramps and flatulence. Native to South America, this herb is also used to alleviate cold and flu symptoms.

Schisandra Berry is a multi-purpose herb native to China. It acts as a liver tonic, nerve tonic and adaptogen. It's traditionally indicated for people who are hyper-vigilant, and is ideal for supporting healthy liver function, improving memory and concentration, and increasing physical and mental resilience.

Star Anise is a star-shaped herb that is native to Southeast Asia. It's reputed to reduce sinusitis, improve skin health, boost the immune system and support healthy sleep and digestion. A powerful anti-viral, Star Anise is rich in antioxidants, vitamin C, iron and calcium.
Who should not drink pine needle tea?

Pine Needle Tea should not be consumed by women who are pregnant or breastfeeding, due to small amounts of Schisandra berries that are traditionally contraindicated in pregnancy.
Can you drink pine needle tea everyday?

Pine Needle Tea can be drunk daily for optimum benefits to your immune and digestive systems.
Are pine needles toxic to humans?

The Pine family is a very large one, so we have to be careful about which species of pine we use. Our Pine Needles are carefully selected for their high quality and benefits.
One of my favourite tea.
Delicious blend
Good for the immune system.
Lots of benefits in this tea
Crave this tea all the time
Absolutely love this product, I drink it hot then fill another teapot to chill for iced-tea on the go. A delicious and unique immune boosting tea.
Great product
Loved the tea , found it a great help during the immune and stress challenging times .
Was also impressed with delivery and customer support.
Organic

We only use the finest
natural ingredients.

Recyclable

All packaging is recyclable and eco conscious.

Cruelty Free

Our entire collection is vegan and cruelty free.

Hand Blended

All of our products are made in small batches for quality control.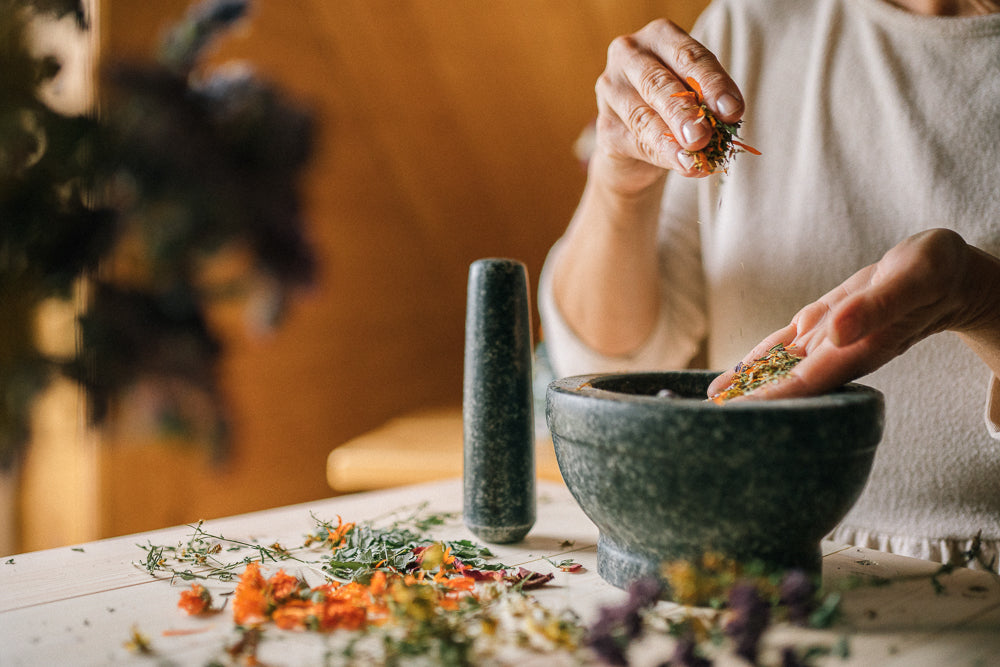 Organic ingredients
We always choose the finest natural ingredients, then expertly blend them to benefit your overall wellness.
You will never find fillers, flavour enchanchers, artificial colours and sweeteners in our products.