Regular price
Sale price
$28.00 AUD
Unit price
per
Sale
Sold out
Boost your metabolism and support your digestion with this refreshing organic tropical tea blend.
This fruity blend tastes just like a summer escape, revitalising your energy as you sip on the taste of the tropics.
Packed with nutrients, antioxidants and natural enzymes to improve digestion and reduce abdominal inflammation.
This fruit tea also makes a deliciously cooling iced tea. Enjoy it with some citrus and ice during the summer! Or, make a zesty warm cup for the cooler months.
Hand-blended, loose-leaf tea by naturopath Nataša Zaric
Made in Canberra
Packaged in biodegradable cardboard and cellulose-based natural cellophane
Available in 100g
Share
Ingredients

All Certified Organic Ingredients: Rosehip, Pineapple, Mango, Papaya, Ginger Root, Lemon Peel and Peppermint.
How to Prepare

Hot Tea:

Use 1 teaspoon of tea for 1 cup of boiling water.
Steep for 7-10 minutes.
Same tea can be used up to 3 times.

Iced Tea:

Steep 1 teaspoon of tea in 1 cup of boiling water, and leave until it cools down.
Strain, add ice & lemon or sweetener of your choice if desired.
Shipping

We are shipping orders in 1 to 2 working days.  Express orders placed by 1pm AEST are sent same day. Once your order has shipped, it will arrive in 2 to 7 days depending on your destination.

For more details, read our Shipping Policy
View full details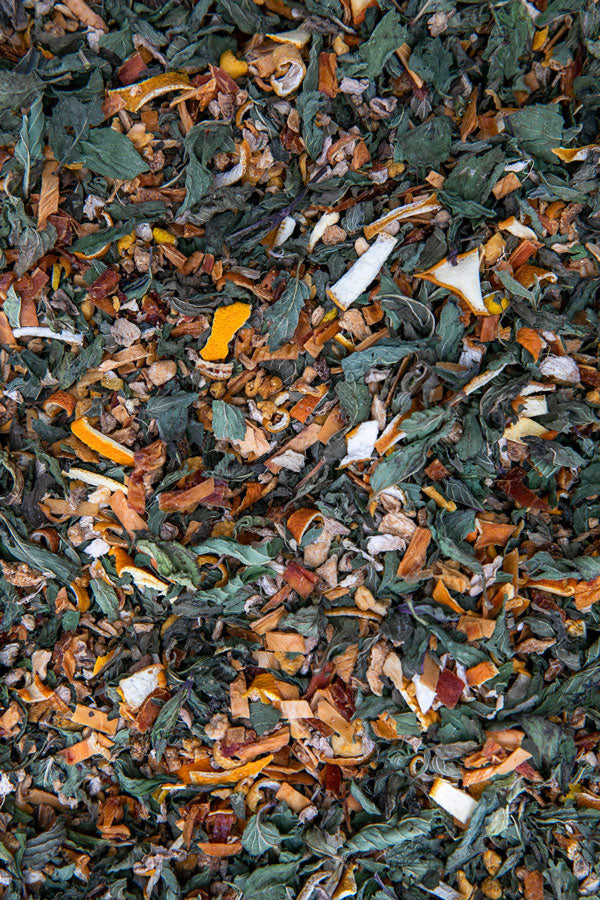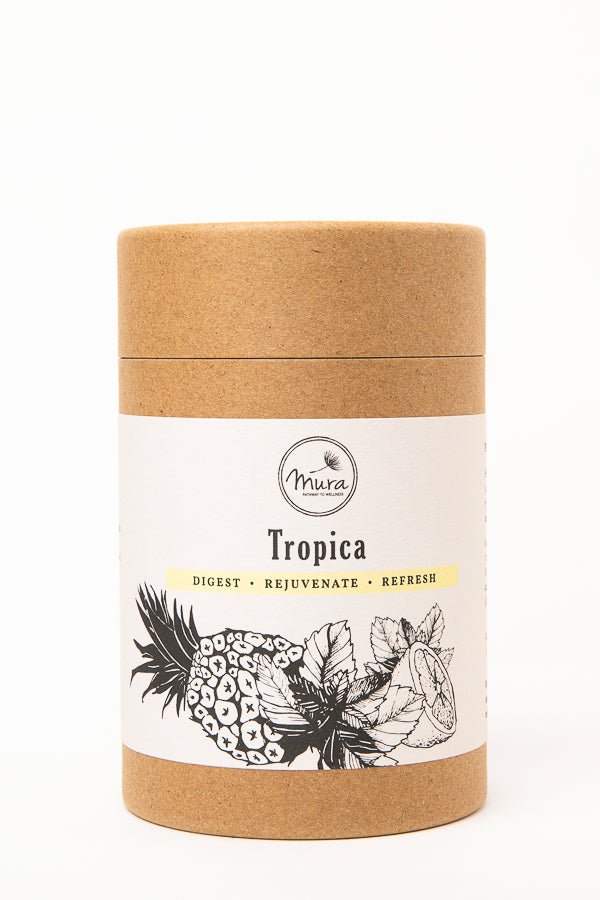 Tropical Tea: Frequently Asked Questions
What is tropical tea good for?

Tropical tea is more than just a refreshing summery taste! Rich in enzymes bromelain and papain, this thirst-quenching blend helps to calm your gut, reduce bloating and improve your overall digestion.

Rosehip is a refreshing, pink tea that's naturally high in vitamin C, beta-carotene and antioxidants. It's supportive of healthy gut function, can help to reduce stomach pain and maintain healthy immunity.

Pineapple contains bromelain; a natural enzyme that supports good digestion and reduces inflammation. It's great for breaking down a high-protein meal and treating symptoms of IBS or ulcerative colitis.

Mango is rich in beta-carotene and enzymes that help to digest carbohydrates. It's sweet flavour blends perfectly with the tartness of pineapple and rosehip.

Papaya is a sweet tropical fruit that's packed with papain; a digestive enzyme that helps with digestion and absorption. Papaya can help reduce bloating and gas.

Ginger Root is famous for treating nausea and helping food to move along the digestive tract. Its sweet, warming nature is used to reduce gas and bloating, inflammation and balance blood sugar.

Lemon Peel is refreshing and antioxidant-rich. High in vitamin C and calcium, lemon peel can support regular bowel movements and help prevent indigestion.

Peppermint helps to calm the stomach and improve fat digestion. Its minty freshness is great for the breath, along with reducing gut spasms, inflammation and gas.
What is tropical tea?

Tropical fruit tea is inspired by the fresh fruits and flavours of northern Australia, Mexico, South America and Vanuatu.

We describe the flavour of tropical tea as a summer party! It's fruity, fresh, and invigorating.
Does tropical fruit tea have caffeine?

This fruit tea is naturally caffeine-free. You can drink it any time of day or night and it's especially encouraged after a meal for optimal digestion.
Who should not drink tropical tea?

Use caution in pregnancy, as this tea contains ginger that is not commended in large amounts.
One of my favourites
I've never tried a tea quite like this one. Fantastic hot or cold, it's not too sweet but really hits the spot. Incredibly revitalising cleansing feeling throughout the body when drinking this tea.
Not to mention all the wonderful health benefits ♡
Organic

We only use the finest
natural ingredients.

Recyclable

All packaging is recyclable and eco conscious.

Cruelty Free

Our entire collection is vegan and cruelty free.

Hand Blended

All of our products are made in small batches for quality control.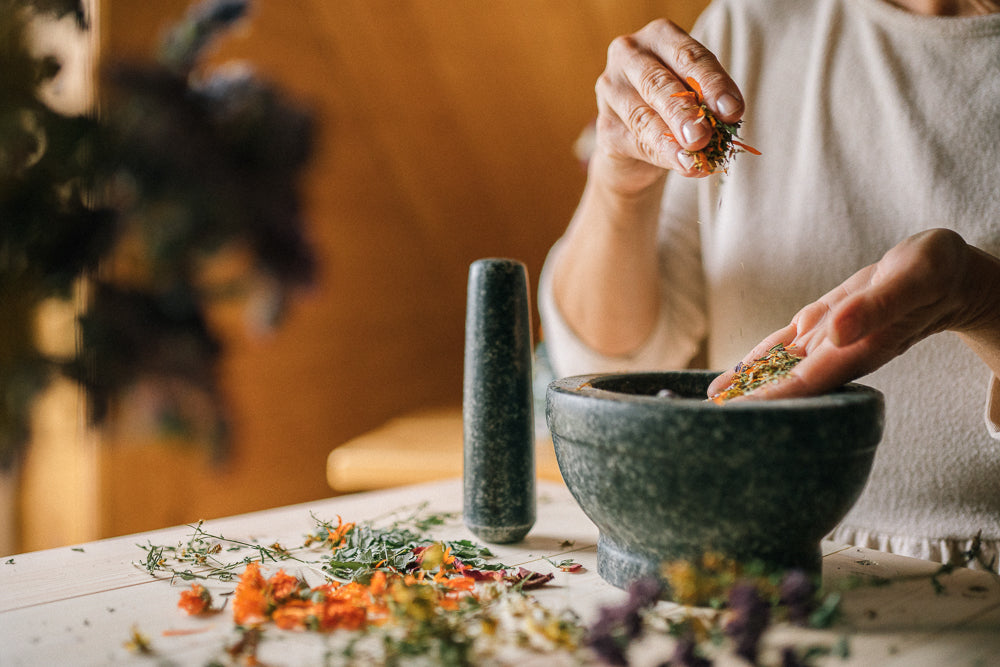 Organic ingredients
We always choose the finest natural ingredients, then expertly blend them to benefit your overall wellness.
You will never find fillers, flavour enchanchers, artificial colours and sweeteners in our products.