Regular price
Sale price
$35.00 AUD
Unit price
per
Sale
Sold out
Abundant in minerals, proteins and phytonutrients, this organic hair mask will help you restore, nourish and fortify damaged, thin, dry and dull hair.
Perfect for a home spa day or a hair treatment to use when you'd like glowing hair.
This superfood hair mask is 100% organic and natural using only dried plants. No fillers, preservatives or unpronounceable ingredients - these ones you could actually eat!
Formulated and packed by naturopath Nataša Zaric
Made in Canberra
Packed in biodegradable packaging
Available in 120g
Share
Ingredients

All Certified Organic Ingredients: Aloe Vera, Amla, Chamomile, Marshmallow, Matcha, Moringa, Nettle, Slippery Elm and Irish Moss.
How To Use

Mix 1-2 tablespoons of powder with approximately the same amount of coconut yoghurt, until you get a desirable consistency.
If treating damaged hair, add 1 whole egg to the mixture.
Multiply this until you have enough for the volume of your hair.
Coat hair fully and lightly massage in.
Allow to sit for 20-60 minutes.
Wash with warm water (shampooing is optional).
Shipping

We are shipping orders in 1 to 2 working days.  Express orders placed by 1pm AEST are sent same day. Once your order has shipped, it will arrive in 2 to 7 days depending on your destination.

For more details, read our Shipping Policy
View full details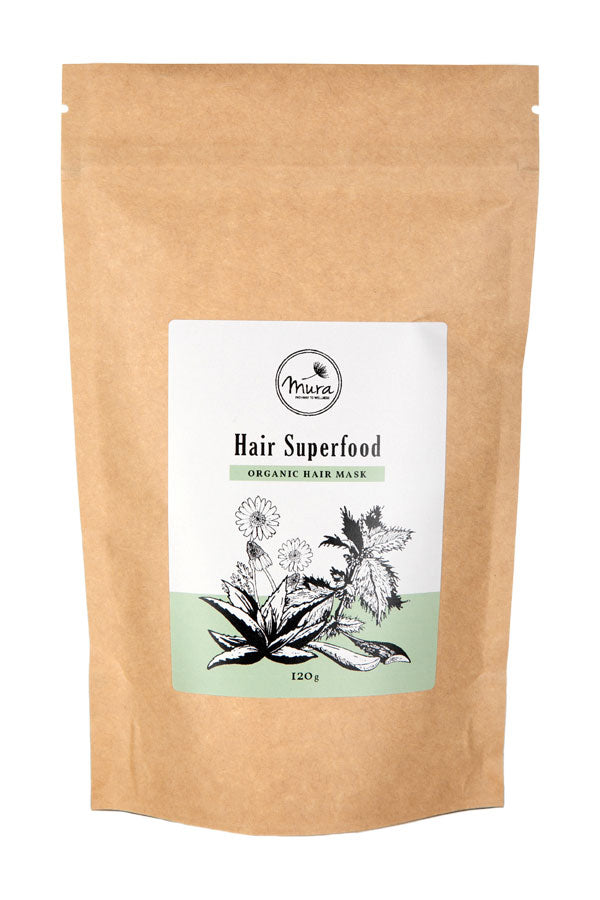 Organic Hair Mask: Frequently Asked Questions
Which ingredients are best for a hair mask?

The ingredients that are best for a hair mask are ones that will deeply nourish, restore and rejuvenate your hair and scalp. This is the perfect organic hair mask for dry and damaged hair.

Aloe Vera is known to help promote strong hair with vitamins A, B12, C and E. It helps with healthy hair follicles and growth as well as shiny hair. It's rich in folic, fatty and amino acids, making it ideal for controlling greasy hair, an itchy scalp and hair growth. The aloe vera we use in this formulation is the powdered inner gel of the plant.

Amla is an Indian gooseberry that is known to improve overall hair quality by acting as a clarifying agent that removes chemical build-up from hair follicles. It cleanses the scalp without stripping away natural moisture, helping to maintain a healthy pH level and prevent scalp issues such as dandruff. Amla also assists with helping reduce hair loss.

Chamomile is known to brighten hair due to the presence of three flavonoids: apigen, quercetin, and azulene. Apigen and azulene work together to brighten hair while quercetin lightens it. In addition to its brightening effects, chamomile can also leave hair shiny, prevent split ends, and promote hair strength.

Marshmallow root is a rich source of antioxidants and amino acids that can help protect and nourish your hair, while also providing moisture. Additionally, it has antibacterial and anti-inflammatory properties that can help soothe scalp conditions and prevent breakage by strengthening hair, like many of the other ingredients on this list.

Matcha can improve blood circulation in the scalp, strengthen hair with the B-vitamin panthenol, and promote overall hair health while protecting it from harmful UV rays with its high antioxidant, vitamin C and E content.

Moringa is a rich source of amino acids such as arginine, cystine, cysteine, lysine, and methionine, which promote healthy hair growth. It also contains vitamins C and E, which are powerful antioxidants that help combat damaging free radicals that cause hair to become weak and turn grey. It's also rich in zinc and iron, which can improve blood flow to the scalp and assist in the recovery of damaged hair follicles.

Nettle is well-known for being one of the oldest treatments and preventions for hair loss as it is high in silica and sulphur. It also strengthens the hair fibre, and like many of the other ingredients it assists with a dry and itchy scalp, which helps to also combat dandruff.

Slippery Elm is rich in calcium and protein, which helps to strengthen and repair weak and damaged hair by penetrating the hair shaft. It also adds shine and a healthy glow to hair thanks to the amino acids found in slippery elm bark. It also encourages circulation to the root of the hair follicle and works well as a natural curl detangler for those with curly hair.

Irish Moss is an algae which is rich in nutrients that help damaged hair, improve overall health, shine and hair growth. This seaweed also contains fatty and folic acids that can naturally accelerate hair growth and protect your hair from harmful UV rays. Irish moss will also assist with a healthy scalp as it contains anti-fungal and anti-microbial properties.
How often should you do a hair mask?

The frequency of using a hair mask is dependent on the reasons for using it. If you have hair that is damaged in any way, it is recommended that you apply the hair mask once a week until you see a noticeable difference in the hair's health and appearance.

On the other hand, if you're using a hair mask for a boost, like to give your hair an extra shine, nourishment or softness, then using it once every couple of months is sufficient.

Note that the frequency of using a hair mask ultimately depends on your hair type and its current condition.
What organic material helps hair growth?

There are many organic ingredients that help with hair growth. All the ingredients in this hair mask will assist with hair growth, in particular, aloe vera, amla, nettle, moringa leaf and Irish moss.
Is organic hair care better?

Organic hair care is better for our health, environment and are much gentler on our bodies than synthetic alternatives.

Be mindful not to be deceived by products that use the word "organic" as sometimes only 1% of the product is organic. Make sure to read the label and be certain that it's made from at least 70-80% organic ingredients to make it a safer option for you and your family.

One of the most significant differences is that true organic products don't have short or long-term side-effects associated with harmful chemicals.
Organic

We only use the finest
natural ingredients.

Recyclable

All packaging is recyclable and eco conscious.

Cruelty Free

Our entire collection is vegan and cruelty free.

Hand Blended

All of our products are made in small batches for quality control.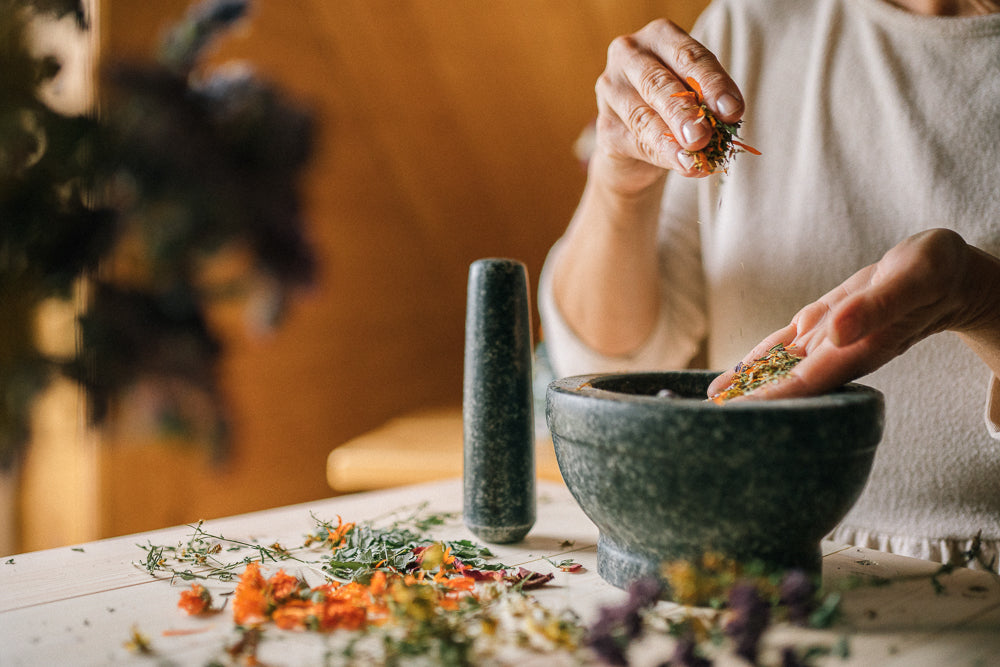 Organic ingredients
We always choose the finest natural ingredients, then expertly blend them to benefit your overall wellness.
You will never find fillers, flavour enchanchers, artificial colours and sweeteners in our products.