Regular price
Sale price
$22.00 AUD
Unit price
per
Sale
Sold out
Mura's bath salts are composed of the finest and purest ingredients. Being 100% natural and organic, this product is free from harmful chemicals, making it a gentle and healing tool for detoxifying your body.
Epsom salt is a naturally occurring raw ingredient and is sustainably sourced and extracted from natural deposits in Germany. These salts are produced to high-quality specifications, with a simple, efficient production method designed to bring you the purest products.
These detox bath salts also contain aluminium-free, organic Sodium Bicarbonate that soothes, relaxes, softens skin and even deodorises.
The addition of beautiful corn petals, hand-processed orange peel, organic pine needles, and sweet orange rind oils create an all-senses soothing experience.
This bath salt will help:
Relax the nervous system
Assists with maintaining good immunity and mood
Gently detoxify the body
Supply minerals for your muscles, bones and skin
Reduce inflammation
Hand-blended and formulated by naturopath Nataša Zaric
Made in Canberra
Available in 250g
Share
Ingredients

Naturally sourced Epsom salt (deposit in Germany), organic aluminium free bicarb soda, natural borax, organic blue corn flowers, organic sweet orange oil, organic pine oil, organic sweet orange peel.

CAUTION: The ingredients listed here are for external uses only. Do not ingest.
How To Use

Fill the bath with warm water (maximum 40 degrees Celsius)
Add ½ to 1 cup of salt.
For the best results, relax in the bath for about 20 minutes.

Warning: If you are allergic to citrus, please avoid using this bath salt.
Shipping

We are shipping orders in 1 to 2 working days.  Express orders placed by 1pm AEST are sent same day. Once your order has shipped, it will arrive in 2 to 7 days depending on your destination.

For more details, read our Shipping Policy
View full details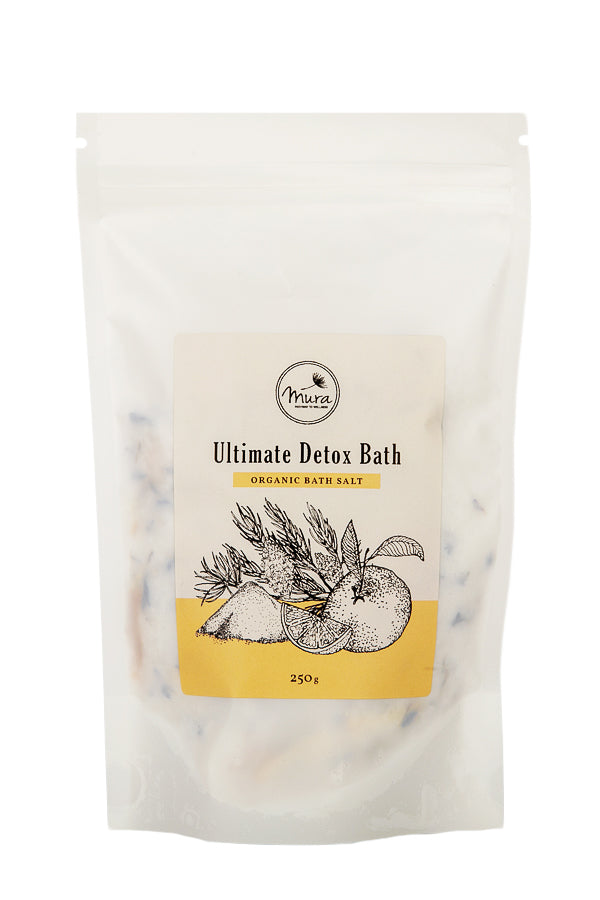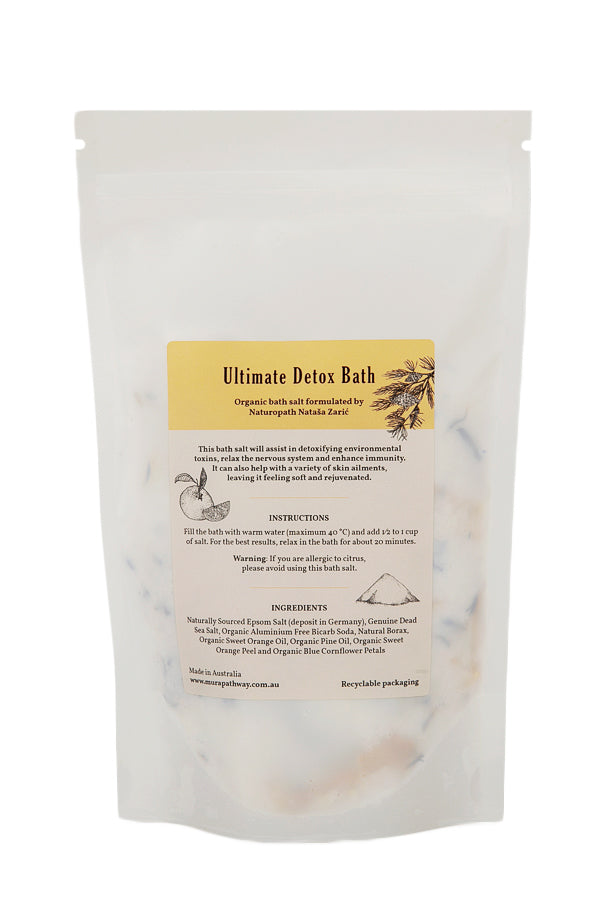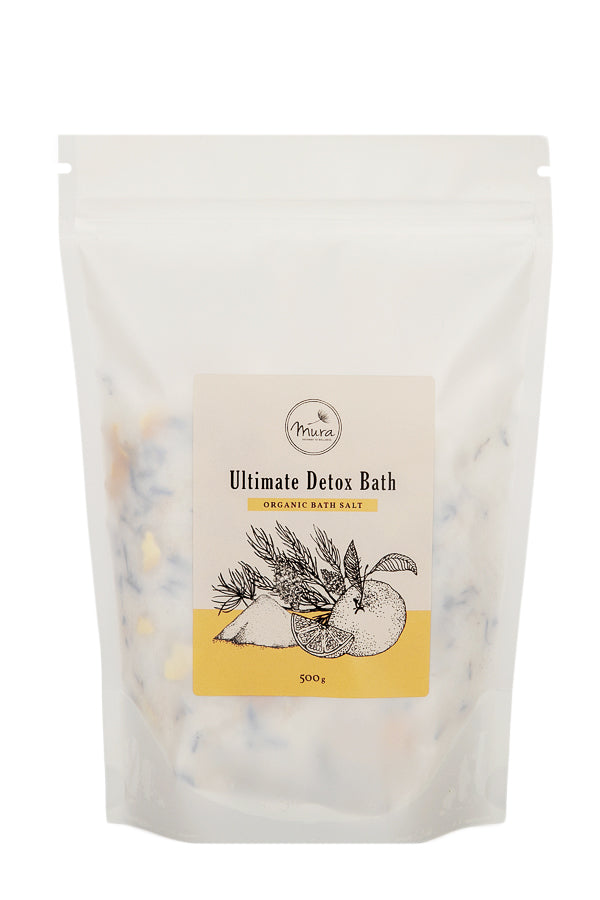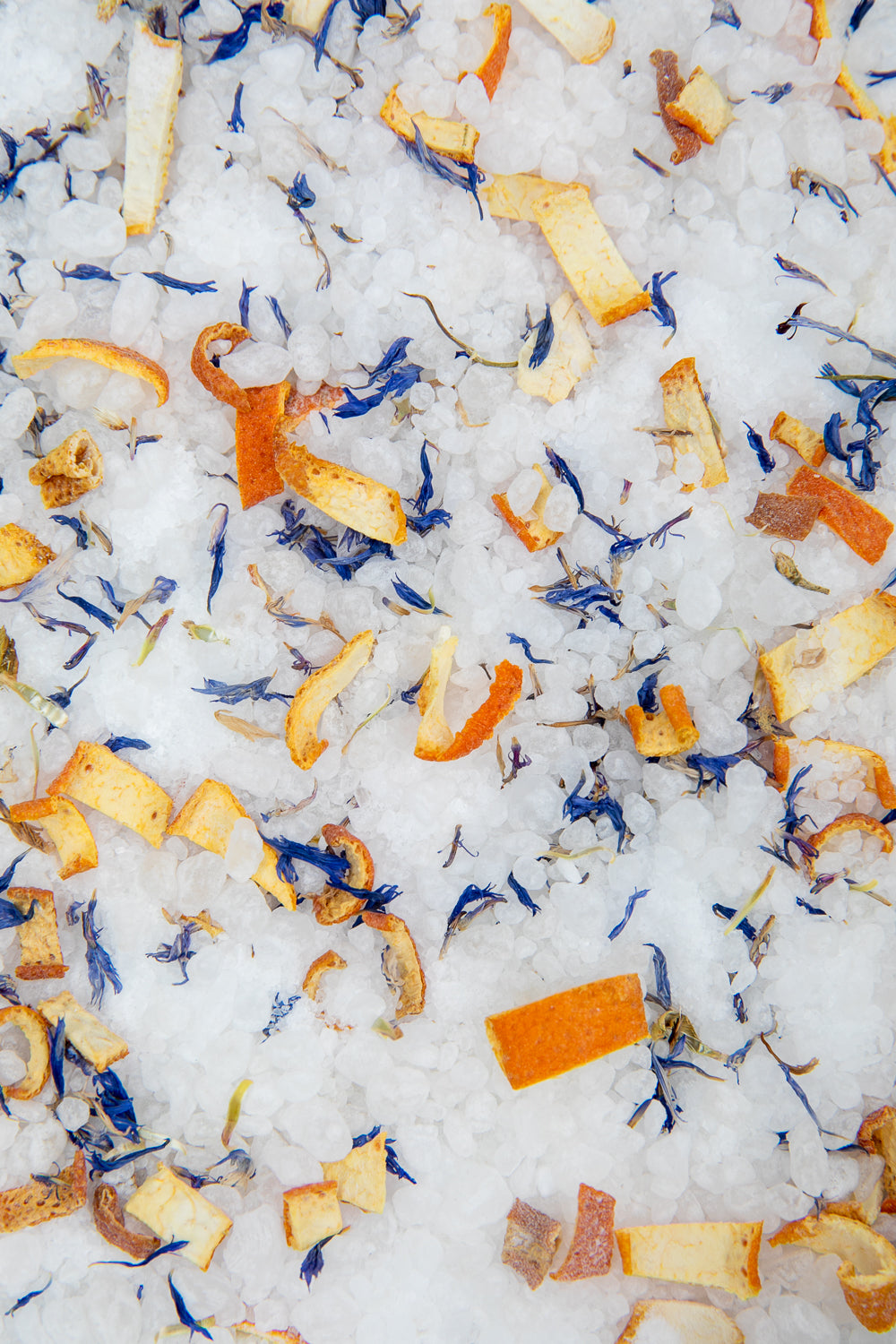 Detox Bath Salts: Frequently Asked Questions
What are the benefits of detox bath salts?

Detox baths have been around for centuries, and their benefits are widely recorded. Aside from removing toxins from the body, bath salts also soften the skin through the exfoliation of dead skin cells, and promote relaxation.

Epsom Salts contain minerals like magnesium, sodium, potassium, and calcium which help remove toxins from the body, while reducing soreness, and boosting neutrotransmitters in the brain, lowering stress levels. Epsom salts also contain sulphate, which strengthens the digestive system easing the process for releasing toxins.

Organic Aluminium-free Bicarb Soda has anti-fungal properties, and its alkaline nature soften skins and reduces itchiness.

Natural Borax is harvested from deposits in the Mediterranean and has anti-fungal and antibacterial properties that can help to soothe the skin.

Organic Blue Corn Flowers not only add a colourful flare to your detox bath, but also act as a diuretic, accelerating the removal of toxins from the body and reducing water retention.

Organic Sweet Orange Oil is a calming touch, reducing pain and inflammation. Orange oil also contains limonene, a compound which has been found to an inhibit the growth of cancer cells.

Organic Pine Oil is antimicrobial in nature and provides benefits such as reducing inflammation. In a bath context, this may be beneficial for individuals with skin conditions such as eczema or acne.

Organic Sweet Orange Peel contains citric acid, which helps to soften the skin by accelerating the removal of dead skin cells.
How do salt baths detox the body?

Minerals in Epsom Salts such as magnesium draw out toxins from the body directly.
Can a detox bath help you lose weight?

Rather than encourage drastic weight loss, a detox bath helps weight management in combination with other healthy lifestyle factors such as diet and exercise.

Minerals in detox bath salts can also help to improve nutrient uptake, and reduce water retention.

The minerals found in these bath salts can also act as a laxative, helping to accelerate and strengthen your digestion, leading to potential weight loss benefits.
Should you rinse off after a detox bath?

It depends on how you feel afterwards. It's common to feel slightly light-headed after a detox bath, so it may not be optimal to stay in it for longer than necessary.

That being said, if you've stayed in the bath longer than 20 minutes, you may want to give your body a quick rinse to prevent re-absorption from taking place. Otherwise, don't rinse off until the next day.
What happens to your body after a detox bath?

After a detox bath your body continues to sweat and release toxins, which is completely normal.

Make sure that the water is 38-40 degrees celsius at most. Spend up 20 minutes in the bath for optimal uptake of minerals. However, any longer than that can reverse the effects. You might feel tired and ready to sleep, so we recommend taking this detox bath just before bed time.
Best bath salt I've used
Mura's detox bath makes you feel so relaxed, and in more ways than one. I can trust that each individual ingredient in this bath salt is sourced with integrity. Plus the smell is wonderful but not overpowering, which is divine to enjoy while the salts do their magic.
Organic

We only use the finest
natural ingredients.

Recyclable

All packaging is recyclable and eco conscious.

Cruelty Free

Our entire collection is vegan and cruelty free.

Hand Blended

All of our products are made in small batches for quality control.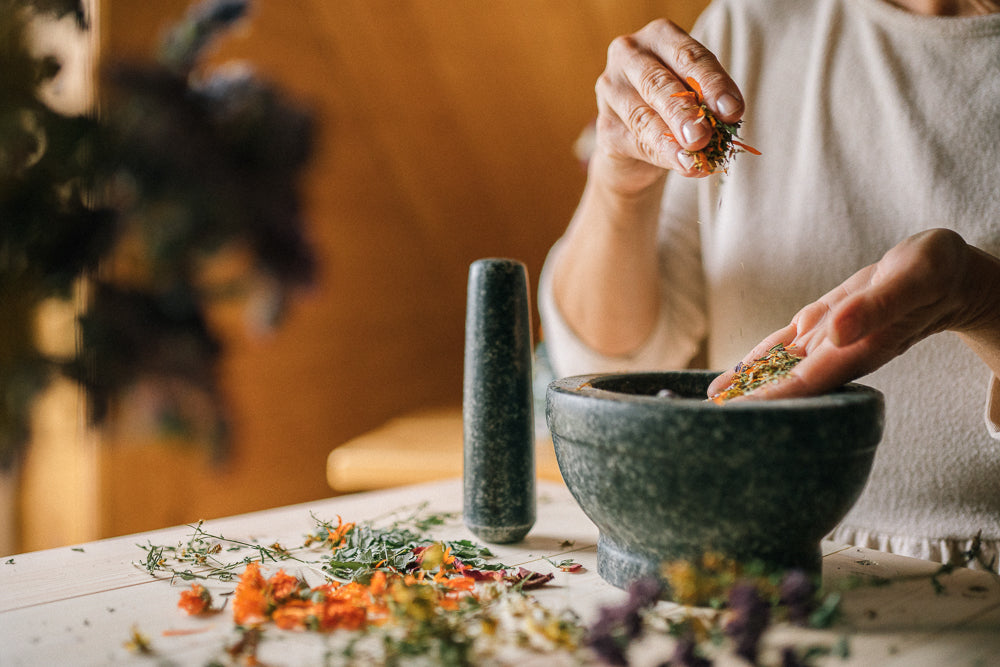 Organic ingredients
We always choose the finest natural ingredients, then expertly blend them to benefit your overall wellness.
You will never find fillers, flavour enchanchers, artificial colours and sweeteners in our products.