Regular price
Sale price
$44.00 AUD
Unit price
per
Sale
Sold out
Bring the colours of nature into your baking with this all natural food colouring.
These carefully blended organic fruits, flowers and superfoods create beautiful pastel hues that will transform your frosting and icing.
With the extra benefit of antioxidants and nutrients, this food colouring powder is safe and good for your health too.
Plant-based, no artificial colours, preservatives, fillers or flavourings.
Choose from six vials of colour, including:
Red
Yellow
Green
Purple
Blue
Pink
Hand-blended, plant-based powders by naturopath Nataša Zaric
Made in Canberra
Packaged in

recyclable cardboard

and glass vials

Available in 40g

(6-7g per vial)
Share
Ingredients

All Certified Organic Ingredients:

Yellow: Goji Berry, Turmeric

Green: Barley Grass, Spirulina

Blue: Blue Pea Flower, Blue Spirulina

Purple: Hibiscus Flower, Dragon Fruit, Blue Pea Flower

Red: Strawberry, Beetroot, Tomato

Pink: Dragon Fruit, Acai Berry
How To Prepare

Pastel Colour: Use ½ vial per 2 cups of icing, frosting or cream.

Vibrant Colour: Use ½ vial per 1 cup of icing, frosting or cream.

Mix the colour powder with 1 teaspoon water to form a paste.

Add the paste to your icing, frosting or cream and mix in evenly.

Start with minimum quantity and add more to achieve desired colour.
Shipping

We are shipping orders in 1 to 2 working days.  Express orders placed by 1pm AEST are sent same day. Once your order has shipped, it will arrive in 2 to 7 days depending on your destination.

For more details, read our Shipping Policy
View full details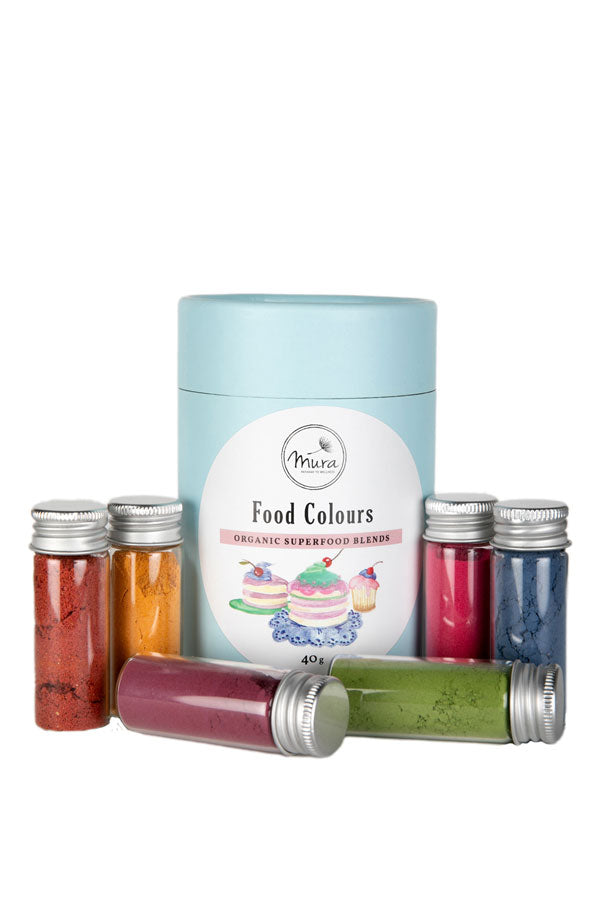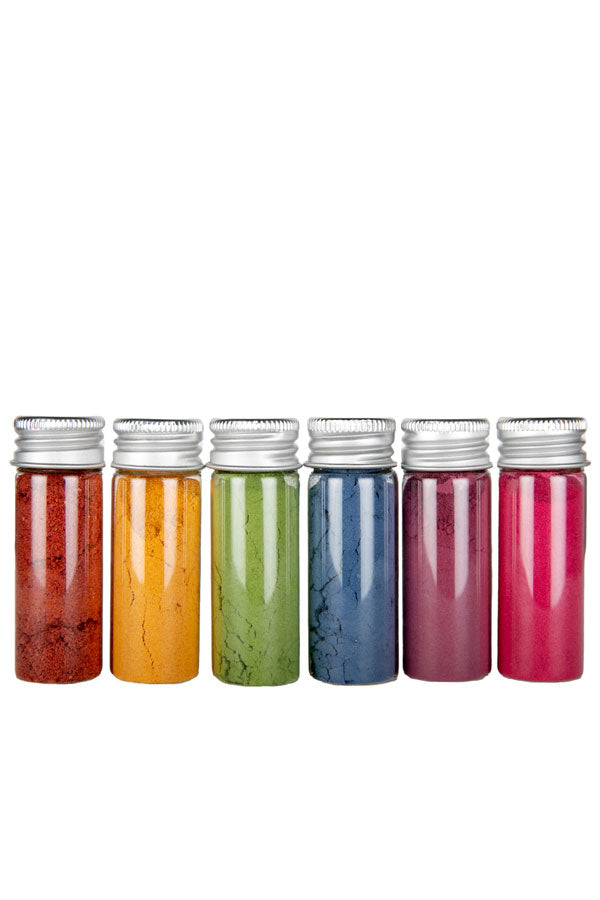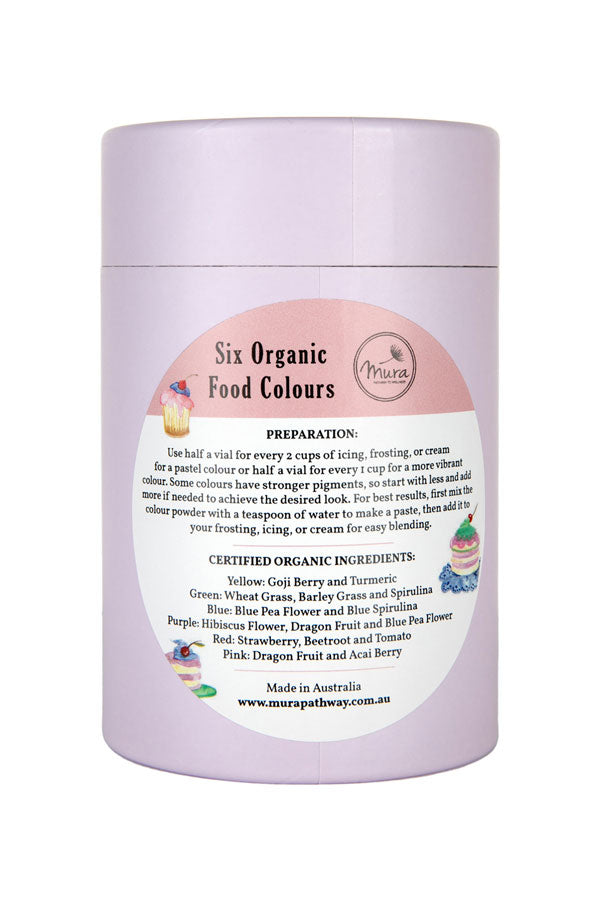 Natural Food Colour: Frequently Asked Questions
What is natural food colouring?

Natural food colouring is a way of making your food visually appealing. Most people love a coloured cupcake frosting!

Common plant-based food colourings include beta carotene, chlorophyll and beet extract.

Mura uses a safe blend of flowers, berries and superfoods that add colour to your food without compromising on health or ingredients.

These plant-based colours don't contain any undesirable ingredients that are often found in synthetic food colouring.

The organic flowers, berries and superfoods in our natural food colouring powder are rich in nutrients and antioxidants. So not only are they colourful, they're also good for you!
What is the safest food colouring?

The safest food colouring is one that only contains food from nature - no artificial colours, flavours, fillers or preservatives.

Synthetic colours are heat stable, shelf stable and often have a more vibrant hue. However, most synthetic food colourings are derived from petroleum, not something you want to ingest!

There are many studies reviewing the safety of artificial food colouring. Some have suggested links to allergic reactions, and hyperactivity in children while others claim that the quantity present is so small, it's unlikely to impact on health.

Some natural food colourings still contain undesirable ingredients. For example, carmine, cochineal extract or natural red 4 is sourced from a crushed insect - Dactylopius coccus.

Mura's natural food colouring is completely plant-based and contains no preservatives or fillers.
Organic

We only use the finest
natural ingredients.

Recyclable

All packaging is recyclable and eco conscious.

Cruelty Free

Our entire collection is vegan and cruelty free.

Hand Blended

All of our products are made in small batches for quality control.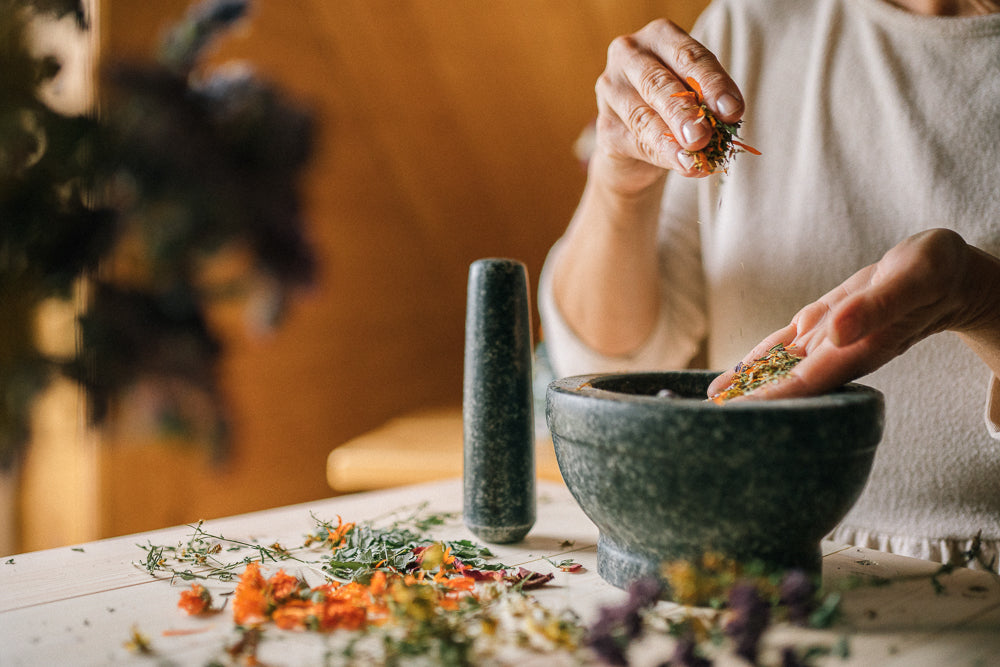 Organic ingredients
We always choose the finest natural ingredients, then expertly blend them to benefit your overall wellness.
You will never find fillers, flavour enchanchers, artificial colours and sweeteners in our products.