Regular price
Sale price
$29.00 AUD
Unit price
per
Sale
Sold out
Nourish yourself with this rich hot chocolate and warming chai spices. The delicious equivalent of a warmhearted hug, this powdered blend contains super mushrooms and raw cacao to help boost your focus, immunity, energy and mood.
Combined with herbs for digestion and immune support, this is an indulgent drink that's full of good health and has a great taste.
Hand-blended latte powder by naturopath Nataša Zaric
Made in Canberra
Packaged in

biodegradable

 packaging

Available in 100g
Share
Ingredients

All Certified Organic Ingredients: Cacao Powder, Cinnamon Verum, Liquorice Root, Ginger, Chaga Mushroom, Reishi, Cordyceps and Lion's Mane.
How to Prepare

As a guide, use ½ teaspoon of powder to make 1 cup of latte.
Mix or whisk the powder with 1 tablespoon of warm water.
Add steamed or frothed milk of your choice and enjoy.
Shipping

We are shipping orders in 1 to 2 working days.  Express orders placed by 1pm AEST are sent same day. Once your order has shipped, it will arrive in 2 to 7 days depending on your destination.

For more details, read our Shipping Policy
View full details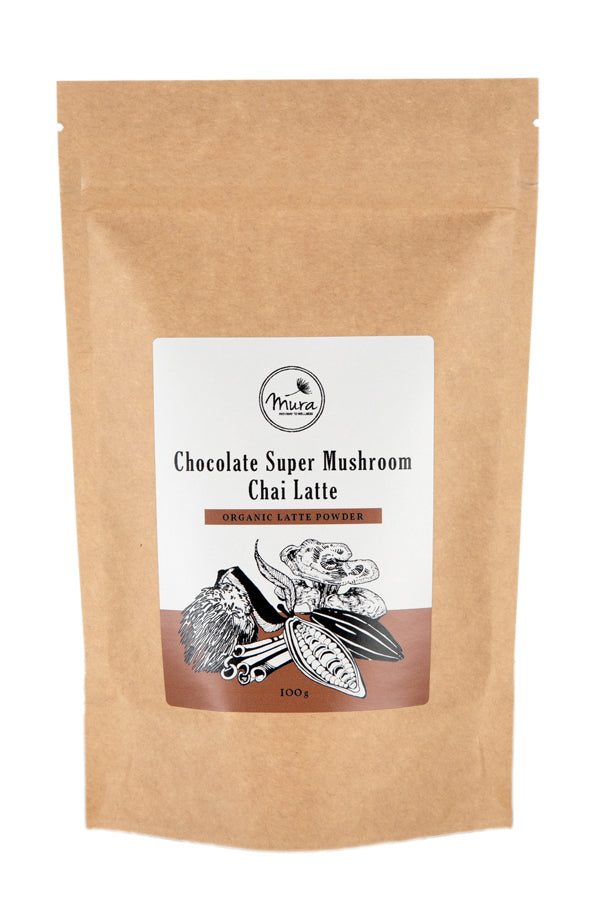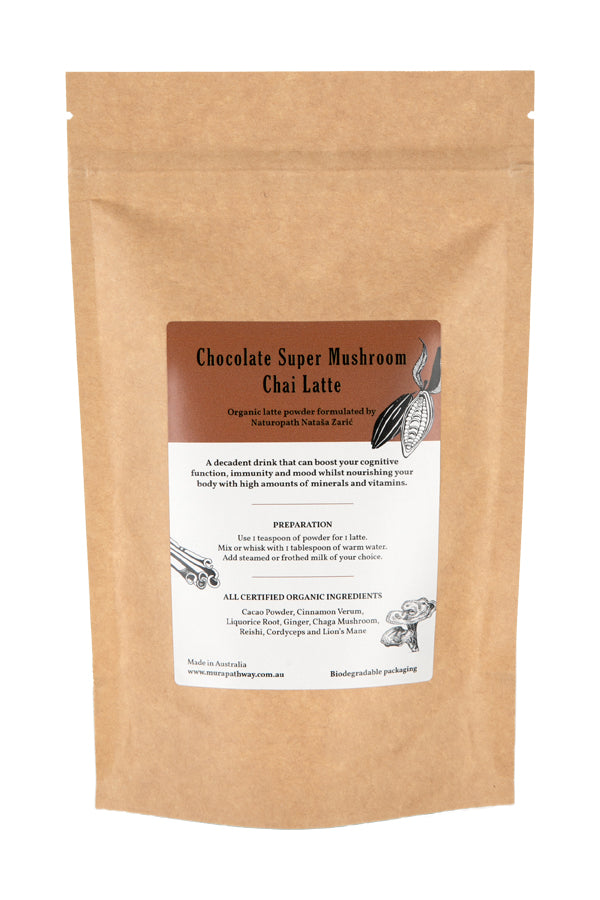 Mushroom Hot Chocolate: Frequently Asked Questions
What is the benefit of mushroom hot chocolate?

The delicious combination of mushrooms and cacao provides a great energy kick without the high caffeine found in coffee. Medicinal mushrooms have been used for thousands of years in traditional Chinese medicine to boost immunity, energy and focus.

Cacao Powder is an unprocessed form of cocoa. In addition to its famous chocolate taste, raw cacao is rich in antioxidants, iron, magnesium and calcium. It's known for boosting mood and energy and is thought to have anti-depressive qualities.

Cinnamon Verum is one of the key spices in a traditional chai tea blend. Packed with antioxidants, cinnamon can help to improve digestion, reduce inflammation and protect against colds and flus.

Liquorice Root is a natural sweetener and powerful anti-inflammatory. It also helps to protect against colds and flus, reduce cough symptoms and supports the adrenal glands through chronic stress.

Ginger is a warming herb that supports digestion. It's often used to reduce inflammation and supports blood circulation. It's been used medicinally since ancient times across many civilisations.

Chaga Mushrooms are a well-known adaptogen and have been used for thousands of years to boost stamina, immunity and vitality. Known as "The King of Medicinal Mushrooms", they are rich in minerals such as calcium, iron and zinc.

Reishi Mushrooms are powerfully anti-inflammatory as well as being adaptogenic. They're traditionally used to bring balance to the body and can help improve the immune system, liver and heart health, and support quality sleep.

Cordyceps Mushrooms are famous for boosting energy and libido, while enhancing the immune system. It can help with endurance and protects the lungs, liver and kidneys.

Lion's Mane Mushroom was traditionally used by monks to enhance their meditation practice. It's known to calm and nourish the nervous system and enhance digestion. Rich in beta glucan polysaccharides, it's excellent for memory and concentration.
Are there any side effects of mushroom powder?

The mushrooms used in this product are known as nootroptics; substances that enhance brain function. They don't contain any hallucinogenic or illegal substances and they're rich in minerals and beneficial polysaccharides.
Does mushroom cacao have caffeine?

Raw cacao does contain some caffeine, although significantly less than you'd find in coffee.
Who should not drink mushroom cacao?

Please use caution in pregnancy, breastfeeding, or if you have low blood pressure or clotting disorders. Check with your health professional first if you're unsure.
Delicious!
Perfect addition to coffee.
Best hot chocolate
The most delicious hot chocolate I have ever tried!
Organic

We only use the finest
natural ingredients.

Recyclable

All packaging is recyclable and eco conscious.

Cruelty Free

Our entire collection is vegan and cruelty free.

Hand Blended

All of our products are made in small batches for quality control.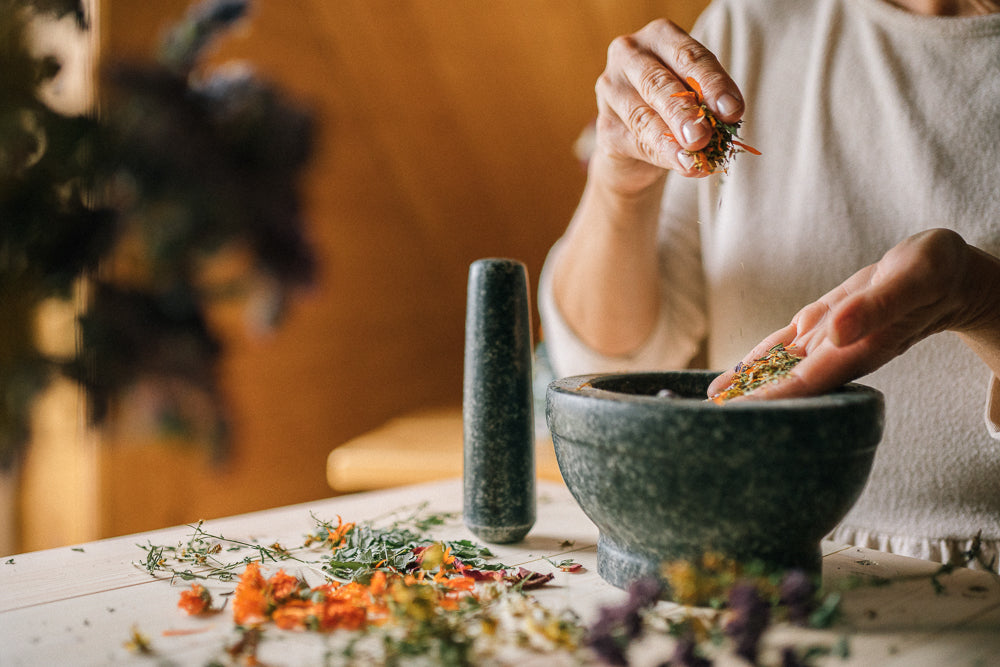 Organic ingredients
We always choose the finest natural ingredients, then expertly blend them to benefit your overall wellness.
You will never find fillers, flavour enchanchers, artificial colours and sweeteners in our products.