Regular price
Sale price
$24.00 AUD
Unit price
per
Sale
Sold out
Our immune tea formulation is specifically designed to improve your resilience to daily stress and maintain a strong immune system.
It's packed with adaptogens, antimicrobial and immune-boosting herbs that regulate your response to environmental impact, keeping your immune army ready to protect your body and have you performing at your best.
Hand-blended loose-leaf immune tea by naturopath Nataša Zaric

Made with love in Canberra

It is packaged in bio-degradable cardboard and cellulose-based natural cellophane

Available in 60g
Share
Ingredients

All Certified Organic Ingredients: Lemon Myrtle, Ashwagandha, Astragalus, Liquorice Root, Siberian Ginseng, Echinacea and Olive Leaf.
How to prepare

Use 1 teaspoon of tea for 1 cup of boiling water.
Steep for 6-10 minutes. Steeping time depends on the desired strength.
Add lemon and/or sweetener of your choice.
Enjoy warm or cold. Same tea can be used up to 3 times.
Shipping

We are shipping orders in 1 to 2 working days.  Express orders placed by 1pm AEST are sent same day. Once your order has shipped, it will arrive in 2 to 7 days depending on your destination.

For more details, read our Shipping Policy
View full details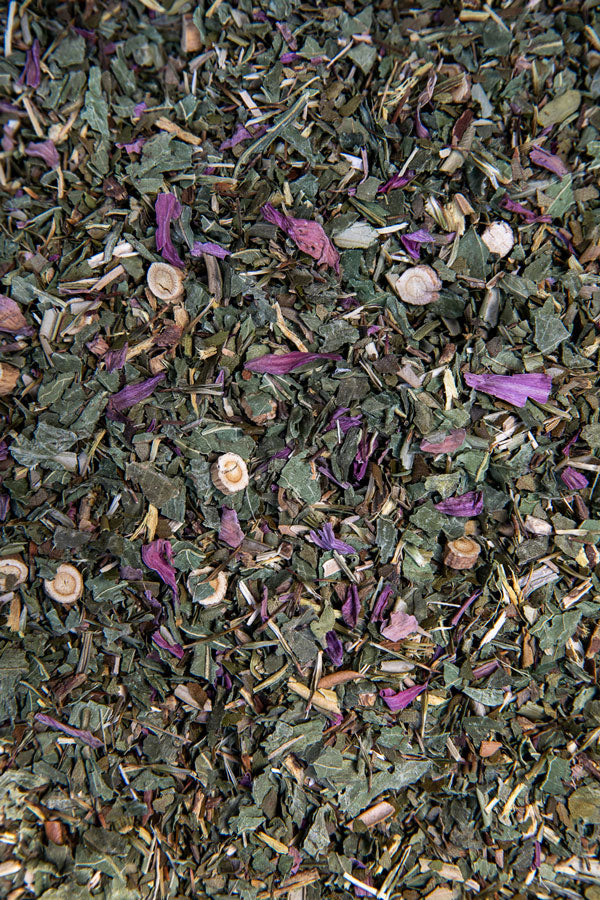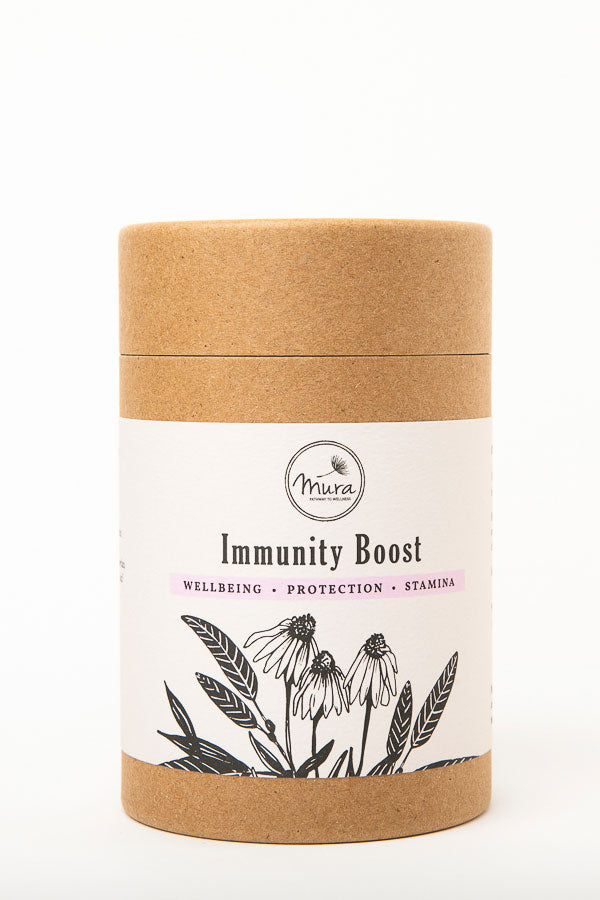 Immune Tea: Frequently Asked Questions
What ingredients are in immunity tea?

Lemon Myrtle is a native Australian bush herb used traditionally by indigenous Australians for all sorts of immune issues, including the common cold with a sore throat, sinusitis, bronchitis, headaches, mouth ulcers to indigestion and as a sanitiser and food flavouring herb.

Ashwagandha is a reputable tonic with research-proven anti-inflammatory and immune-modulating action. It has been used for thousands of years in Ayurvedic medicine to build strength and resilience, especially during intense periods of stress or during and after sickness.

Astragalus is one of the favourites in Chinese medicine. It's an immune and cardiovascular-enhancing tonic that rebuilds the body after and during prolonged stress periods and chronic fatigue. It also assists in helping prevent future infections by promoting good leukocyte function.

Liquorice Root is a West Asian and Mediterranean herb used for centuries as medicine and flavouring agent for food and drinks. It can restore and protect mucus membranes and is used as an anti-inflammatory. It also has soothing properties for coughs and phlegm expectorating, which are valuable in helping respiratory discomfort from viral or bacterial origin.

Siberian Ginseng is a reputable immune-modulating and adaptogenic herb, meaning it helps your body cope with higher stress levels — post-viral syndrome or chronic fatigue. It can improve physical, mental and exercise performance and concentration. It's also a gentle tonic for the elderly and teenagers with chronic fatigue.

Echinacea is a North American native traditional medicinal herb. It's used for immune enhancing and modulating actions, helping acute and chronic infections, viral, bacterial or parasitic. It is especially beneficial in upper and lower respiratory conditions and their prevention, as well as other inflammatory conditions or systemic infections, chronic fatigue and a generally poor immune response.

Olive Leaf is one of the most neglected herbal remedies. Yet, it is one of the most accessible due to the widespread growth of olive trees in the Mediterranean region for oil and preserved olive production. The leaves have highly anti-microbial (anti-viral, anti-bacterial, anti-parasitic and anti-fungal) and cardio-protective properties. Some herbalists observe that taking olive leaves for six months over the warm months of the year can improve your immune system and protect you from colds over the cooler seasons.
What are the benefits of immune boosting tea?

This blend has a selection of herbs that may enhance your immune performance, which can be slightly diminished by the environment and stress we all experience in this modern time. It helps your body to shield from the ongoing invasion of various microbes and assists in restoring your white blood cells and mucous membranes, as well as stress tolerance.
When should I drink immunity tea for the best results?

This blend can be enjoyed any time of the day. For better results, have three cups of this immune tea a day.
I enjoy my tea very my much thank you.
Really does keep the gremlins at bay! and tastes lovely too.
My kids love it
My kids have this tea almost all year around and they love it !
Amazing tea
Best tea ever. I feel so much better after drinking this. Delicious taste.
Organic

We only use the finest
natural ingredients.

Recyclable

All packaging is recyclable and eco conscious.

Cruelty Free

Our entire collection is vegan and cruelty free.

Hand Blended

All of our products are made in small batches for quality control.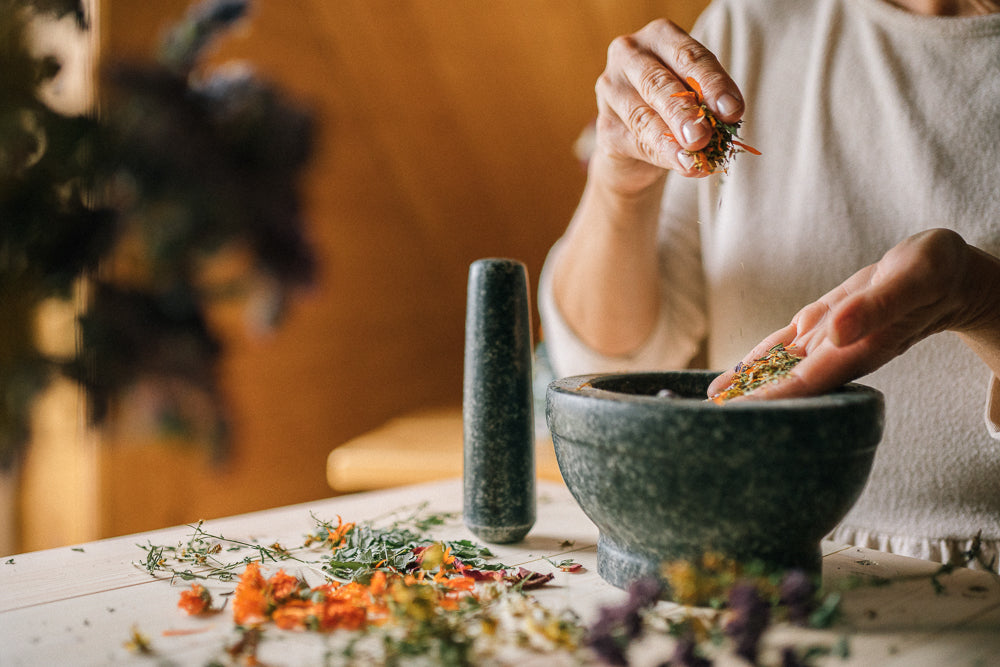 Organic ingredients
We always choose the finest natural ingredients, then expertly blend them to benefit your overall wellness.
You will never find fillers, flavour enchanchers, artificial colours and sweeteners in our products.