Regular price
Sale price
$33.00 AUD
Unit price
per
Sale
Sold out
Our organic dandelion chai is a deliciously rich blend that will deliver the finest chai experience without the caffeine kick, so you can drink it all day long!
A perfect caffeine-free substitute for coffee, this combination of organic chai spices will support your liver and digestive function, while you enjoy an indulgent cup.
Hand-blended loose-leaf tea by Naturopath Nataša Zaric
Made in Canberra
Packaged in biodegradable cardboard and cellulose-based natural cellophane
Available in 100g
Share
Ingredients

All Certified Organic Ingredients: Roasted Dandelion Root, Cinnamon Verum, Roasted Chicory Root, Aniseed, Caraway, Cloves, Fennel Seed, Liquorice Root, Cardamom Pods, Nutmeg and Black Peppercorn.
How to Prepare

Hot Tea:

Use 1 teaspoon of tea for 1 cup of boiling water.
Steep for 5-10 minutes. Steeping time depends on desired strength.
Same tea can be used up to 3 times.

Chai Latte:

In a saucepan use 1 teaspoon of dandelion chai with 1 cup of water and/or milk of your choice.
Bring to a simmer and cook for about 5-7 minutes.
Serve hot or cold.
Shipping

We are shipping orders in 1 to 2 working days.  Express orders placed by 1pm AEST are sent same day. Once your order has shipped, it will arrive in 2 to 7 days depending on your destination.

For more details, read our Shipping Policy
View full details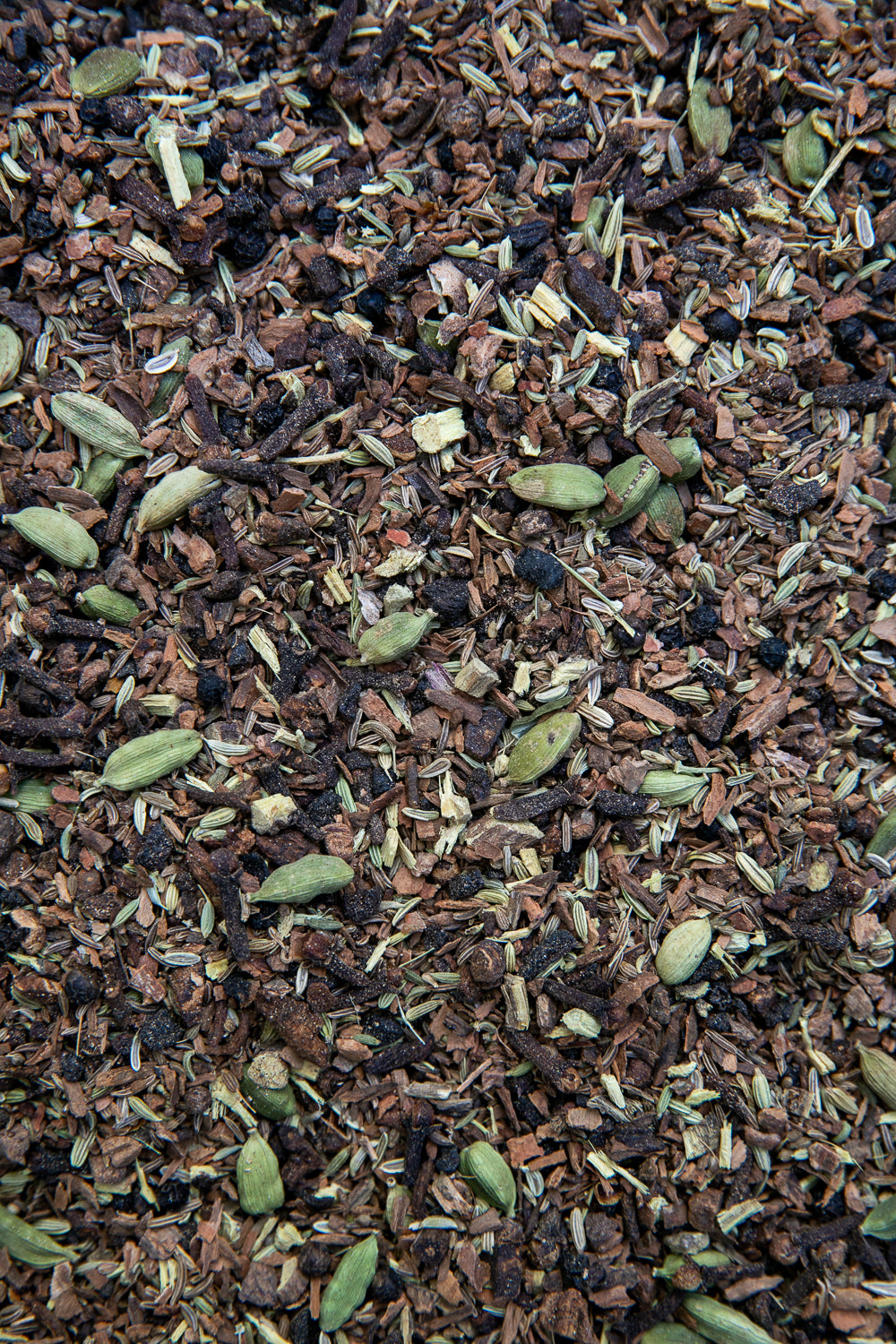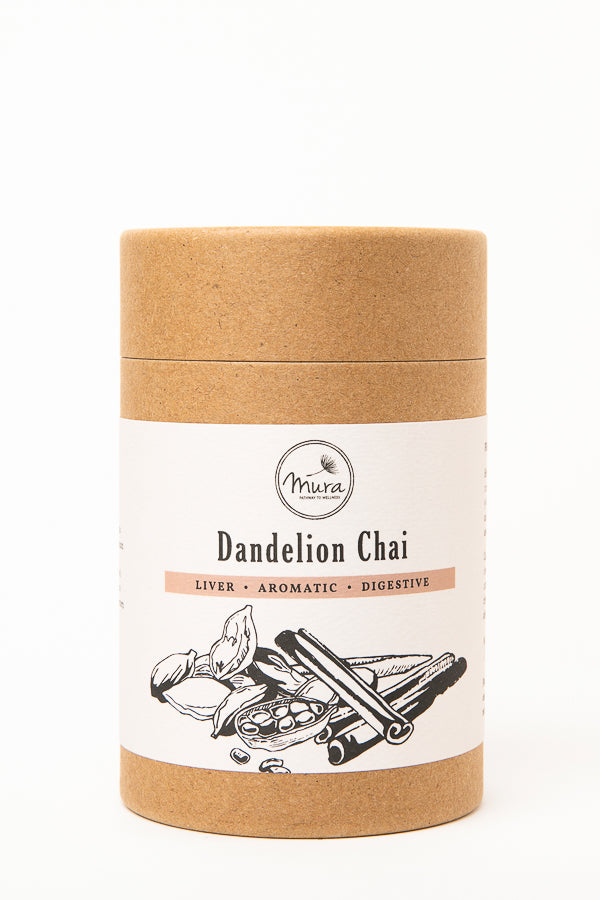 Dandelion Chai: Frequently Asked Questions
What are the benefits of dandelion chai tea?

Dandelion chai tea combines the finest chai spices with dandelion root for a caffeine-free chai alternative with bonus digestive benefits.

Roasted Dandelion Root is commonly used as a caffeine-free coffee substitute due to it's rich, earthy flavour. Dandelion root tea is a potent liver tonic that can assist with digestion, especially for foods that are high in fat.

Cinnamon Verum is a warming spice that helps to calm the digestive tract by reducing bloating, cramps and flatulence. Traditionally used to ward off colds and flu, cinnamon is a delicious all-round addition to a chai blend.

Roasted Chicory Root is a cousin of dandelion and is another popular coffee substitute. Helpful as an anti-inflammatory and digestive tonic, chicory root can help balance blood sugars, protect the liver and relieve constipation.

Aniseed is a digestive spice that offers a sweet addition to this chai blend. Used for centuries across Europe, it can assist with bloating and dry coughs.

Caraway seeds are an aromatic spice known to relieve bloating, abdominal cramps and flatulence. They're often added to breads and soups to improve digestion, and are a perfect addition to this chai spice blend.

Cloves are anti-inflammatory, anti-microbial and ****topically analgesic. Excellent for oral hygiene and inflammation, cloves are famous for their potent aroma and have a long history in traditional Chinese and Ayurvedic medicine.

Fennel Seed is a gentle digestive tonic that calms bloating and flatulence. Fennel's distinctive sweet taste is great for freshening the breath and supporting healthy digestion.

Liquorice Root is a general anti-inflammatory that protects the liver, stomach and intestinal tract. Liquorice tea is helpful as a gentle energy boost, for calming a cough, and supporting the adrenal glands through chronic stress. Liquorice also provides a natural sweetness to this chai blend.

Cardamom Pods offer a subtle aromatic addition that has been traditionally used in Ayurvedic medicine. It's frequently used to protect and calm the digestive and respiratory systems.

Nutmeg is a warming spice originating from Indonesia. Traditionally used to calm the nervous system, improve digestion and fight infections, nutmeg offers a pungent balance to this spice blend.

Black Peppercorn has a long history of use in Ayurvedic medicine. Known for reducing gas and excess mucous, pepper offers an energetic, warming boost that blends perfectly with other aromatic chai spices.
Is dandy chai tea good for you?

Dandy chai tea is full of herbs and spices that support optimal liver and digestive health. It's also free from caffeine, making it an ideal alternative to black chai and coffee. It's a deliciously spiced chai that is also good for you.
Is it safe to drink chai everyday?

This dandelion chai is caffeine-free and safe to drink daily. Use caution in pregnancy as this tea contains cinnamon that is not recommended in large amounts.
Amazing chai
Just one sip was enough to fall in love with this tea !
Absolutely amazing - it's aromatic and has unique scent!
Tasty tea
Delicious and nutritious
Better than a coffee
5
The most delicious chai tea you'll ever have. The flavours are so interesting and well balanced I can never have enough, I always make this for guests who love it just as much as I do. My go-to mura tea!
Organic

We only use the finest
natural ingredients.

Recyclable

All packaging is recyclable and eco conscious.

Cruelty Free

Our entire collection is vegan and cruelty free.

Hand Blended

All of our products are made in small batches for quality control.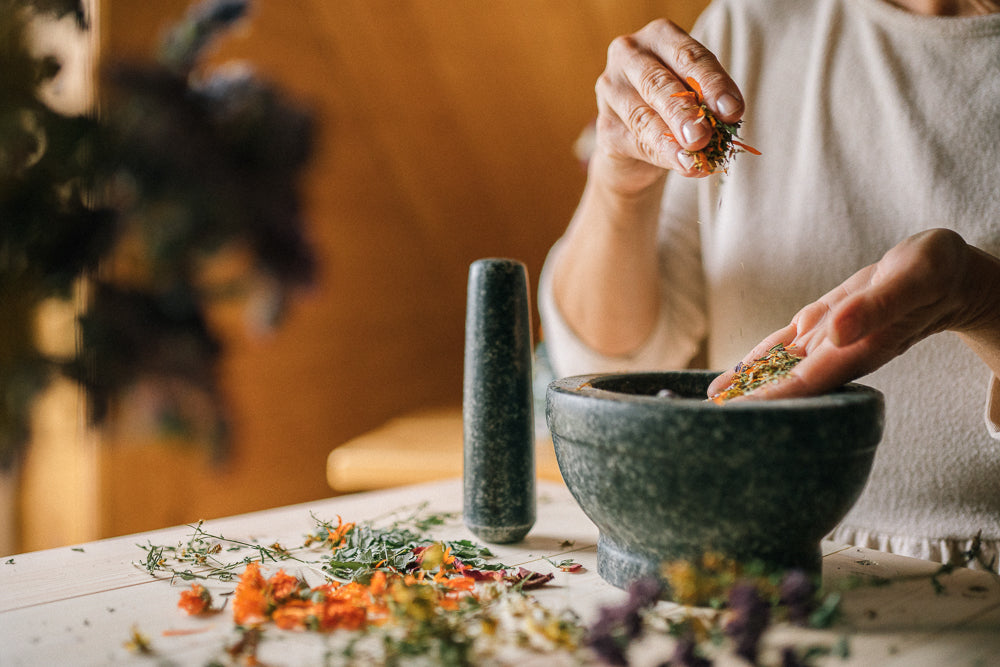 Organic ingredients
We always choose the finest natural ingredients, then expertly blend them to benefit your overall wellness.
You will never find fillers, flavour enchanchers, artificial colours and sweeteners in our products.