Regular price
Sale price
$28.00 AUD
Unit price
per
Sale
Sold out
This aromatic Christmas Tea is an all-sense pleaser for the cold of winter or the festive months.
Bringing you the full flavours of a European Christmas, this blend is packed with heart warming spices, antioxidants and digestives.
This tea can also be used to make a fruit compote or mulled wine.
Hand blended loose leaf tea by naturopath Nataša Zaric
Made in Canberra
Packaged in biodegradable cardboard and cellulose-based natural cellophane
Available in 100g
Share
Ingredients

All Certified Organic Ingredients: Apple, Cinnamon Verum, Cloves, Hibiscus Flower, Rosehip, Star Anise, Sweet Orange Peel, Ginger Root, Nutmeg and Fennel Seed.
How to Prepare

Hot Tea:

Use 1 teaspoon of tea for 1 cup of boiling water.
Steep for 7-10 minutes.
Same leaves can be used up to 3 times.

Iced Tea:

Steep 1 teaspoon of tea in 1 cup of boiling water, and leave until it cools down.
Strain, add ice, lemon and/or sweetener of your choice if desired.
Shipping

We are shipping orders in 1 to 2 working days.  Express orders placed by 1pm AEST are sent same day. Once your order has shipped, it will arrive in 2 to 7 days depending on your destination.

For more details, read our Shipping Policy
View full details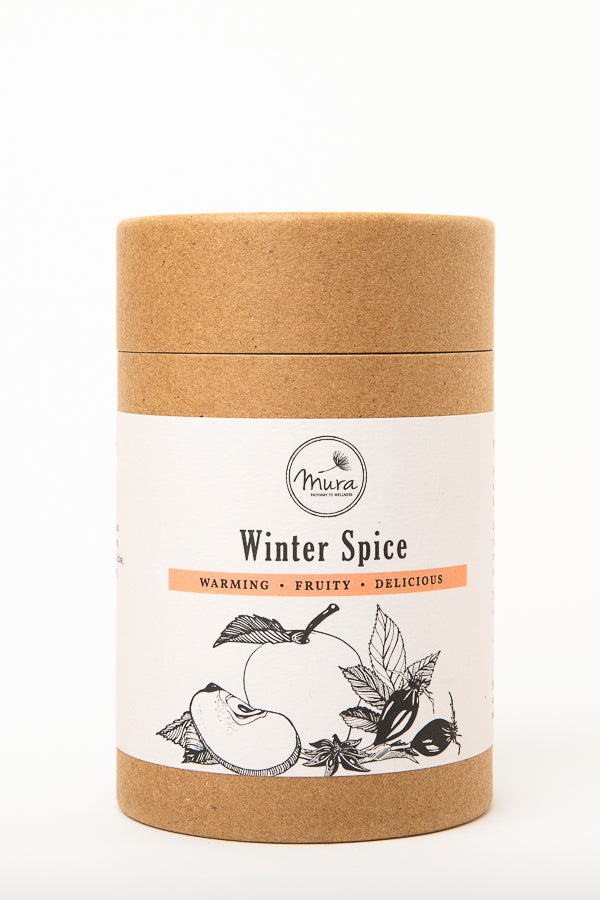 Christmas Tea - Frequently Asked Questions
What is Christmas tea good for?

Apples are rich in fibre and quercetin - a potent antioxidant and anti-inflammatory. Combined with these traditional mulling spices, this apple tastes like dessert in a cup.

Cinnamon Verum is is synonymous with desserts, mulled wine and Christmastime. A warming spice, it helps to calm the digestive tract by reducing bloating, cramps and flatulence. Excellent for warding off colds and flu.

Cloves are famous for their potent aroma and are a key ingredient in mulled spice blends. They have a long history in traditional Chinese and Ayurvedic medicine and are anti-inflammatory and anti-microbial.

Hibiscus flowers are rich in vitamin C and antioxidants. They're a natural sweetener and are excellent for fighting inflammation and protecting against colds and flu.

Rosehips are a warming herb, naturally high in vitamin C, beta-carotene and antioxidants. Great for the immune system, they support healthy gut function and prevent infections such as colds and flu.

Star Anise is a naturally sweet addition to mulled spice blends. It's antibacterial, anti-fungal, and well known for its flu-fighting abilities. Star Anise is full of antioxidants and provides a good source of vitamin C.

Sweet Orange Peel offers a fresh tang that uplifts the palate. It's full of antioxidants and vitamins, providing protection against colds and flu.

Ginger Root evokes memories of warm toddies and Christmas desserts. It's a warming herb that supports circulation and reduces inflammation. It's excellent for digestion, helping to reduce bloating and perfect after a big meal.

Nutmeg is a warming spice originating from Indonesia. Traditionally used to calm the nervous system, improve digestion and fight infections, nutmeg offers a pungent balance to this spice blend.

Fennel Seed is a gentle digestive tonic that calms bloating and flatulence. Its distinctive sweet taste is great for freshening the breath and supporting healthy digestion.
What is Christmas tea made from?

Traditional Christmas tea is made with a range of warming spices and dried fruits, much like Christmas cake. It's perfect for use in a fruit compote or mulled wine, as well as delighting the senses as a cup of warm or iced tea.
What does Christmas tea taste like?

Christmas tea tastes like mulled wine or fruit cake. It's like all your favourite festive flavours blended into one warming tea, reminiscent of a comfy seat by a crackling fireplace.
Who shouldn't drink Christmas tea?

Use caution in pregnancy, this tea contains cinnamon and ginger which aren't recommended in high amounts.
Exquisite Christmas flavour
This delightful, high grade quality tea is the taste of Christmas in a bottle. Flavoursome and pleasant on the palette. Smells amazing each time I open it. Glad I treated myself to this for advent and Christmas. It's now my go-to Christmas and Christmas in July tea. Excited to try the latte powders now!
So special
This tea was gifted to me by a very special friend and it warmed me through my first winter as a mother. It was both deeply comforting and nourishing without the need for milk or any extra sweetness. I love this one!
Love in a tea!
I've been drinking Natasa's teas for many years now, and this one is my favourite. The aroma is divine, and it's warming and comforting during the cooler months. Pure luxury!
Organic

We only use the finest
natural ingredients.

Recyclable

All packaging is recyclable and eco conscious.

Cruelty Free

Our entire collection is vegan and cruelty free.

Hand Blended

All of our products are made in small batches for quality control.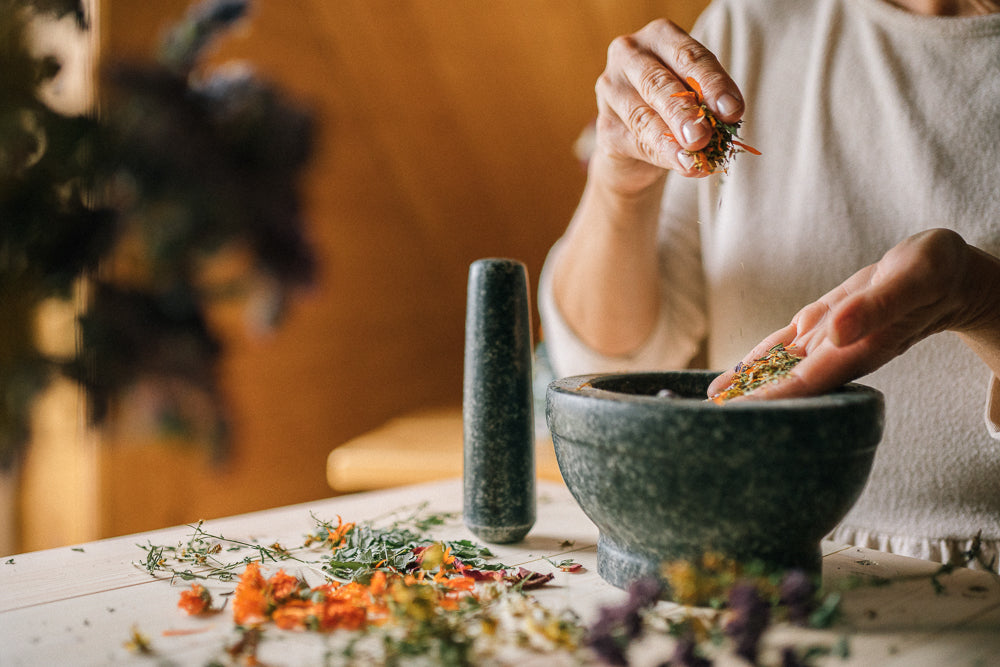 Organic ingredients
We always choose the finest natural ingredients, then expertly blend them to benefit your overall wellness.
You will never find fillers, flavour enchanchers, artificial colours and sweeteners in our products.