Regular price
Sale price
$30.00 AUD
Unit price
per
Sale
Sold out
Calendula oil has anti-fungal, anti-inflammatory, and antibacterial properties. It has been found to activate the body's own cells, which can help to clear foreign invaders and debris at the site of an infection and trigger other defence mechanisms.
Calendula infused oil can help to heal cracked, chapped, damaged or infected skin. It can also soothe sores, reduce and cool inflammation from minor burn or sunburn.
This oil is the perfect addition to your first aid kit to help with many different skin issues.
Formulated and handmade by Naturopath Nataša Zaric.
Made in Canberra.
Available in 50ml.
Share
Ingredients

Organic calendula petals macerated in organic olive oil.
How To Use

Apply on minor skin injuries like cuts, scrapes, minor burns, sunburn, nappy rash, cracked or rough skin.
Shipping

We are shipping orders in 1 to 2 working days.  Express orders placed by 1pm AEST are sent same day. Once your order has shipped, it will arrive in 2 to 7 days depending on your destination.

For more details, read our Shipping Policy
View full details
Calendula Oil: Frequently Asked Questions
What is calendula oil good for?

This beautiful flower is often made into an oil to soothe various skin issues, such as soreness, infections, and damage caused by sun or radiation exposure. When applied topically, calendula oil has been found to possess anti-inflammatory, antibacterial, and anti-fungal properties.

It can help to cool inflammation, strengthen capillary cell walls, and stimulate the generation of healthy new skin cells. Additionally, calendula oil can prevent infection and aid in the healing of cracked or rough skin. Overall, calendula oil is a great natural option for anyone looking to soothe and nourish their skin.
Can you use calendula oil directly on skin?

Yes, you can safely use calendula infused oil directly on your skin for many different ailments.
Is calendula oil good for eczema?

Calendula infused oil is an anti-inflammatory and can assist with cracked and rough skin, therefore it will benefit eczema prone skin.

However, there is no scientific evidence to say that it will completely heal eczema. It can be used to alleviate further cracking and scaring as it moisturises the skin and helps generate new skin cells.
Is calendula good for wrinkles?

Calendula helps to reduce oxidative stress, therefore can help with reducing the visible signs or lines and wrinkles. Calendula infused oil also assists with hydrating your skin, healing scars and blemishes, and reducing redness and inflammation.
Organic

We only use the finest
natural ingredients.

Recyclable

All packaging is recyclable and eco conscious.

Cruelty Free

Our entire collection is vegan and cruelty free.

Hand Blended

All of our products are made in small batches for quality control.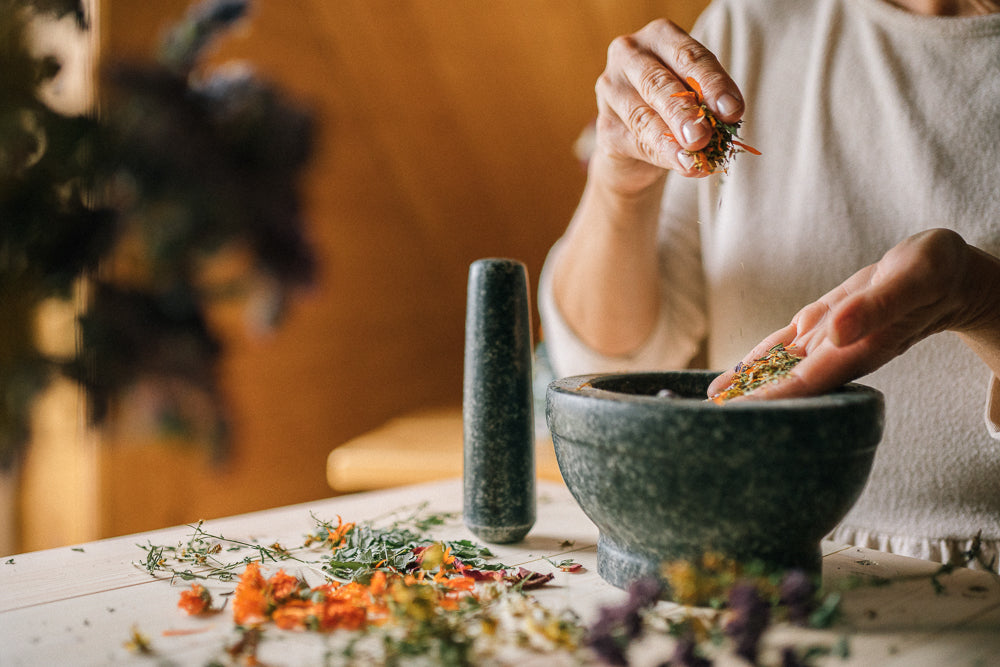 Organic ingredients
We always choose the finest natural ingredients, then expertly blend them to benefit your overall wellness.
You will never find fillers, flavour enchanchers, artificial colours and sweeteners in our products.