Regular price
Sale price
$33.00 AUD
Unit price
per
Sale
Sold out
Modern life comes with a host of challenges that can leave you feeling stressed and exhausted.
You're trying to balance all your commitments and you simply haven't got the energy to do it all.
If your energy is depleted and you feel like you're fighting burnout, Adrenal Support Tea is a gentle and safe way of revitalising your energy.
These carefully selected herbs can nourish your adrenals, improve your stress response, and help you to become more resilient in your day-to-day life.
Hand blended loose leaf tea by Naturopath Nataša Zaric
Made in Canberra
Packaged in biodegradable cardboard and cellulose-based natural cellophane
Available in 90g
Share
Ingredients

All Certified Organic Ingredients: Ashwagandha, Astragalus, Hibiscus, Lemon Verbena, Siberian Ginseng, Schisandra Berry, Brahmi, Gotu Kola and Tulsi.
How to Prepare

Use 1 teaspoon of tea for 1 cup of boiling water.
Steep for 7-10 minutes.
Add lemon and/or any sweetener if desired.
Same tea can be used up to 3 times.
Shipping

We are shipping orders in 1 to 2 working days.  Express orders placed by 1pm AEST are sent same day. Once your order has shipped, it will arrive in 2 to 7 days depending on your destination.

For more details, read our Shipping Policy
View full details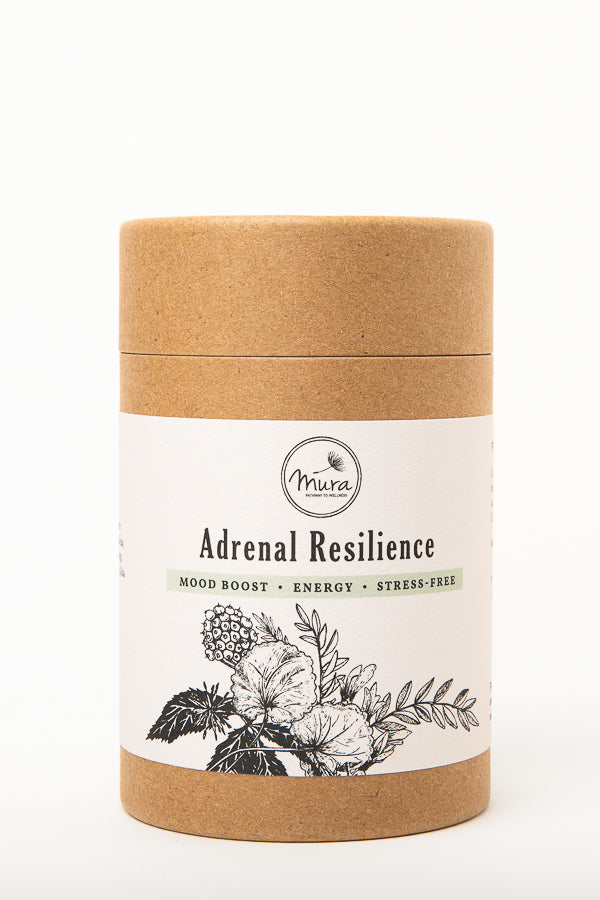 Adrenal Support Tea: Frequently Asked Questions
What are the benefits of adrenal support tea?

Ashwagandha is a renowned adaptogen and nerve tonic. Used for centuries in Ayurvedic medicine, it gently calms the nervous system and so reduces the overproduction of cortisol. It's ideal for exhaustion and nervous tension.

Astragalus is a nourishing herb that is helpful for debility, especially when recovering from illness. While not ideal for acute infections, Astragalus is great for preventing chronic and recurrent infections.

Hibiscus flowers are rich with antioxidants and vitamin C, which supports the adrenal glands. Naturally sweet, they're excellent for fighting inflammation and protecting against infections, which you're more susceptible to when you're run down.

Lemon Verbena is a great digestive herb. When you're depleted, your digestive system often needs extra support. Lemon Verbena is also a helpful sleep tonic and can assist with insomnia. A good night's sleep is essential for better energy!

Siberian Ginseng is a well-known adaptogen that can support the body through chronic illness, chronic fatigue and stress. It combines beautifully with Ashwagandha to support the nervous system.

Schisandra Berry is a multi-purpose herb that acts as a liver tonic, nerve tonic and adaptogen. It's ideal for supporting increasing physical and mental resilience.

Brahmi is an antioxidant-rich adaptogen that can help with anxiety, mental or nervous exhaustion, and impaired memory and focus.

Gotu Kola is a gentle adaptogen and nerve tonic. Perfect for supporting the skin and connective tissue, this herb is a great accompaniment for Brahmi in helping the nervous system.

Tulsi is known as one of the great Ayurvedic herbs. It is a powerful adaptogen that is traditionally used to calm the mind, support the immune system and protect against environmental toxins.
What can I drink for adrenal fatigue?

With its speed and challenges, modern life causes a persistent state of fight or flight.

Cortisol and other hormones are produced by the adrenal glands and released into your bloodstream during times of stress. Over time, your adrenal glands can become depleted, causing fatigue and lack of focus.

To support healthy cortisol levels and adrenal glands, it's important to calm your stress response with adaptogens and nerve tonics.

Mura's Adrenal Support Tea contains a balance of adaptogens and nerve-calming herbs, perfect for healthy, resilient adrenal glands.
Who shouldn't drink adrenal support tea?

Use caution in pregnancy due to small amounts of Schisandra berries that are traditionally contraindicated in pregnancy.
5/5
Really , the best of the best, this tea is sensational
Organic

We only use the finest
natural ingredients.

Recyclable

All packaging is recyclable and eco conscious.

Cruelty Free

Our entire collection is vegan and cruelty free.

Hand Blended

All of our products are made in small batches for quality control.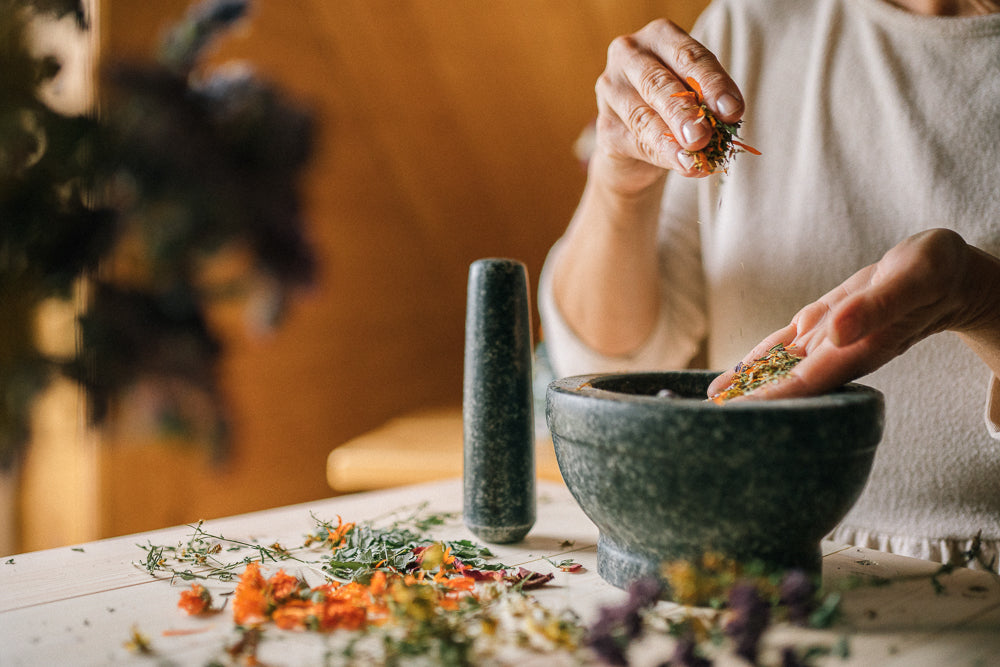 Organic ingredients
We always choose the finest natural ingredients, then expertly blend them to benefit your overall wellness.
You will never find fillers, flavour enchanchers, artificial colours and sweeteners in our products.